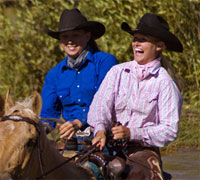 We have a special place in our hearts for every horse that's trotted in and out of our lives. But what about the people who have peppered the breezeways and barn aisles of our stables? Lots of them have been great friends and acquaintances. But which one has earned the title of BBBF: Best Barn Buddy Forever?
"I've been lucky to have had a lot of horse pals over the years," says Doreen Hagar. "But if I had to single out my most memorable barn buddy, it'd have to be Mindy. She and I rode at the same barn, with the same trainer, and we showed in the same divisions. Whether I was taking a lesson or competing, Mindy was always around. She was a very good rider with an awesome mare. That could've been kind of ugly if you think about it," Doreen explains with a laugh. But she reflects for a moment and adds, "Fortunately, Mindy was driven to win, just like me, but she wasn't ruthless or cutthroat. In fact, she was a lot of fun. It seems like we were always cracking each other up. That camaraderie carried over to the show ring. We'd root for each other and most of the time we'd place right next to each other. Like if Mindy won, I'd be second, or vice versa. At one big show, when I suddenly got very ill and was in the hospital, Mindy showed my horse for me, and won a couple of championships on him. She was genuinely sorry, almost apologetic, that I wasn't able to be the one collecting the prizes. I'll never forget that. Even though Mindy has moved hundreds of miles away, I'll always think of her fondly. She was a good rider, a good horsewoman and a good friend."
Which one of your horse pals would you name Most Memorable Barn Buddy? We'd like to know whose company you enjoy on trail rides. We want to hear who it is that you chat with for hours about horses. When there's a sale at the local tack store, a Must See clinic or a Can't Miss horse expo, who do you call for companionship? Simply click on Submit a Comment below and immortalize them. Some of your comments may appear in Horse Illustrated.
Read more HI Spy Questions >>