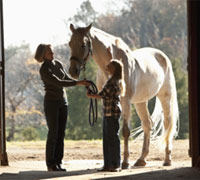 Most things in horsemanship must be learned through experience, but sometimes you get a little help from someone with a bit of knowledge to share.
This month, we want you to share the best horse-related advice that you've received. Did you get a smart tip from a friend at the barn? Maybe your instructor gave you a unique trick for remembering to keep your eyes up and heels down. Perhaps it came from a cheeky bumper sticker ("Don't squat with your spurs on," comes to mind.) Even a completely non-horsey significant other can point something out in passing that you wouldn't have noticed on your own.
Whatever the source, share your favorite bit of wisdom with other HorseChannel.com visitors by clicking "Submit a Comment" below. We'll pick a few of our favorites to appear in a future issue of Horse Illustrated.
See all HI Spy Questions >>