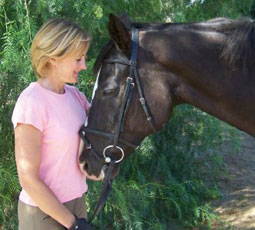 © Cindy Hale
Our family and friends refer to us as being "horse crazy." We'd much rather spend our time at the barn than at school. We figure out ways to skip family functions so we can compete at a horse show. Our horses wear quality tack and expensive shoes while we traipse around in faded jeans and scuffed muck boots. And yet we wouldn't have it any other way. Why?
Amateur adult rider Susan Fox shared her reasons after a day spent riding her 23-year-old Thoroughbred mare, Maggie. She's owned the flashy black mare for two decades, and the time spent together has created a bond that Susan says is everlasting.
"She has navicular now," Susan reveals, "but I treat it and manage it because I feel like I owe it to her. She's been a great horse. I competed her in eventing when she was younger. Her dressage wasn't the best," she admits, "but she loved the jumping. She'd go over anything."
When asked what she enjoys most about her life as a committed horse lover, she thinks for a moment and replies, "The people that I've met. It doesn't matter what our backgrounds are, what style of riding we do, we share the same language, that same bond. Despite our differences, we're all horse lovers."
Indeed. Whether as horse lovers we compete in dressage or jumpers, wear a helmet or a Stetson, race around barrels or mosey down a trail, each of us understands what it means to feel an unwavering closeness to a special animal.
But what do you personally feel is the best part of being a horse lover? Is it having a four-legged best friend? Does a horse allow you to experience the highs and lows of athletic competition? Could you not survive without the stress reduction that horseback riding provides? We'd like to know! Just click on "Submit a Comment" below and share what you think is the best part of being a horse lover. Some of your comments may appear in an upcoming issue of Horse Illustrated.
How do you know if you're a true horse lover? Click here >>