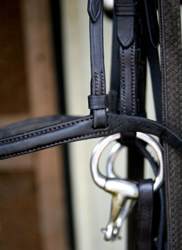 Are you a bit hoarder? Is there a pile of intertwined stainless steel, copper and sweet iron metal at the bottom of your tack trunk? Or do you stick to your tried and true favorite bit, passing it on from one horse to another? As you've probably discovered, there's an endless variety of bits, and there are numerous types of bit buyers.
Some riders like to experiment. If there's a new, innovative bit on the market, they have to buy one and see for themselves. Of course, that can lead to some misguided purchases, where a horse tells the rider in no uncertain terms that they are not happy with the newfangled device. On the other hand, a simple change in equipment can lead to a real breakthrough in a horse's training. Without boldly going where no one else in the barn had gone before, and experimenting with the new bit, the rider might have never found success with their horse.
Then there are traditionalists who rarely waver from their philosophy that every worthwhile bit has already been created. There are English riders who believe that a properly trained horse should perform in just a snaffle, and western riders who expect to school every horse in a low port curb. At the opposite extreme are the riders who espouse a different belief: They embrace the bitless bridle, believing it's the most natural and humane way to communicate with their horse.
So where do you stand when it comes to bits? Do you have an entire collection and believe that for every horse there's a bit?  Or do you have a particular go-to bit that works on every horse you ride?  We'd like to know. Give a testimonial for your favorite bit or reveal your bit fetish by sharing a list of every bit you own. Contribute your story by clicking on Submit a Comment below. We'll select some of the answers for an upcoming issue of Horse Illustrated.
See more HI Spy Questions >>