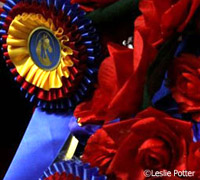 There are numerous reasons why riders choose to compete in horse shows and other events. One of the most common reasons is to give yourself something to work toward as a rider.
Goals can be as lofty as making the Olympic team or as modest as simply overcoming nerves to make it through a class at the local schooling show. No matter where your personal goals fall on that spectrum, working towards them keeps you motivated and gives your training sessions purpose.
Even if showing isn't your thing, equestrians of all types participate in a variety of competitive events, many of which have very little to do with the glitz and glamour of the A-circuit. Endurance and competitive trail offer a competitive outlet for dedicated trail riders. Cattle events give talented ranch horses a stage to test their skills. Hunter paces are fun, casual events in open country for English riders. If you and your horse are especially multi-talented, you can even opt to compete in an Extreme Cowboy Race.
Show season is just around the corner. We want to know, what are your competitive goals for this season? Are you chasing points with your old campaigner? Hoping to complete your first endurance event? Or maybe you've never shown before and want to make 2010 the year you finally get in the ring. Share your goals with other HorseChannel.com readers by clicking "Submit a Comment" below. Some of the answers may appear in an upcoming issue of Horse Illustrated.
One selected response may be selected by the editors to win a monthly prize! If you would like to be eligible for the prize, please include your email address in the comment form (email addresses are not publicly displayed.)
See more HI Spy questions >>