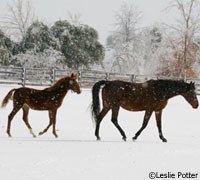 Oh, the weather outside may be frightful, but the horses we care about still need our attention. There are stalls to be mucked, blankets that require adjusting and water troughs that must be kept ice free. And let's not forget all the hairy horses caked with mud. They're in desperate need of 15 minutes with a curry comb. Isn't wintertime wonderful?
Much of the country deals with snow, which can be a chilly challenge if you're determined to ride. One of your first concerns is figuring out how many layers of clothes are required to thwart frostbite while still allowing you to feel your horse beneath you. Then, do you dare deal with frozen ground and slippery ice? Or are you among the lucky riders who have access to an indoor arena? That setting can present its own problems, however. Many a horse has spooked when icicles break free from the eaves and shatter on the ground. Nothing gets your blood pumping like trying to stay aboard a frisky horse that's launched into a crow-hopping frenzy!
Horse lovers outside the snowy regions face a pair of seasonal nemeses: wind and rain. Just when you think you can saddle up and go for a ride, Mother Nature whips up a windstorm that threatens to rip the roof off the tack room. That pretty much cancels out any saddle time, because it can be suicidal to ride when stuff is blowing through the air like the twister scene in The Wizard of Oz. Dodging raindrops isn't any more pleasant. Are you a soggy soul who has to tramp through mud to toss hay to your horses? Do you keep a running tally of how many shoes your horse has pulled from cavorting in fetlock-deep mud?
For the majority of horse lovers, winter is a season that must be endured. We just resign ourselves to the long, dark wait before the first warm rays of spring sunshine. But before you settle in to your parkas and raingear, we'd like to know what you consider the worst aspects of wintertime around the barn. Is there a particular chore that's made "extra special" thanks to the weather? Are you incredibly frustrated by the enforced lack of riding time? Do you look at your favorite horse's coat (not to mention his tail) and cringe at the hours of grooming awaiting you? Sip some hot cocoa and let your fellow Horse Channel readers know how winter impacts your horsey life. Reveal what you dread most about the season. Just click on Submit a Comment below and begin typing, providing your fingers aren't frostbitten. Some of the responses may appear in Horse Illustrated.
See more HI Spy Questions >>