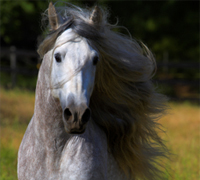 When you were young, your dream horse was the Black Stallion's doppelganger. You pictured yourself galloping down the beach with your firey steed. Now, after your horse has taken off with you in eight of your last ten rides, you're thinking that maybe you need a less gallop and more plod. Your dream horse today is Ol' Dobbin, who's never in a hurry to get anywhere.
At one point in your life, you wanted to be a cowgirl. Your dream horse was a tough and sturdy Quarter Horse or a Mustang that you trained yourself. But then you ended up at a hunter/jumper barn and fell in love with the sleek, bay coats punctuated by a perfect row of braids. Your dream horse now has never seen a steer, but can clear any fence with grace and elegance.
When you first started entertaining the idea of purchasing your horse, you envisioned a 15.2h black and white pinto mare to trail ride and show for fun at the local saddle club. You scoured the Internet, pulled phone numbers off fliers at horse shows and spent hours with classified ads and a highlighter. Finally, you found her. Now she's in your backyard and you've barely glanced at another horse since.
Tell us about your equine ideal, whether the horse waiting for you back in the barn meets the description or not. Have you always had one perfect horse that haunts your day dreams, or did your ideal change as you matured as a rider? Share your thoughts by clicking "Submit a Comment" below. Some of the responses may be selected for publication in a future issue of Horse Illustrated.
See all HI Spy Questions >>