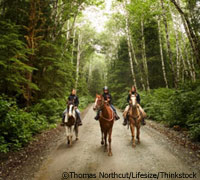 Have you ever stumbled upon a photo or video of horses and riders in some exotic location and thought, "I'm going to ride there one day"? When watching your equestrian idols, do you feel determined to find out first hand what it's like to win at the big shows? Does watching someone like Stacy Westfall ride without tack inspire you to do the same with your own horse if it's the last thing you ever do?
Maybe you've simply always wanted to see the Chincoteague Ponies swim across the channel or find out what it's like to ride a tölting
Icelandic horse
.
There are so many things to do as an equestrian that you could fill up several lifetimes with different adventures. But which ones make the list of experiences you want to have before you kick the bucket?
For some inspiration, check out A Rider's Bucket List. Then click "Submit a Comment" below and tell us what makes the number one spot on your equestrian bucket list. Some responses may be selected for a future issue of Horse Illustrated!
One selected response may be selected by the editors to win a monthly prize! If you would like to be eligible for the prize, please include your email address in the comment form (email addresses are not publicly displayed.)
See all HI Spy questions >>