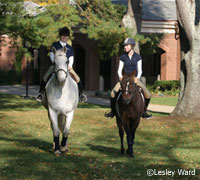 Students in a college equine science program take their equestrian education to the next level. Photo: Lesley Ward
Having a horse of your own has a lot of benefits. You develop a bond, an understanding. You learn each others' idiosyncrasies and adapt accordingly. You know your horse's personality so well that notice immediately when something is amiss. Your horse anticipates your cues so well that you think he might be able to read your mind.
These same benefits can also be liabilities when it comes to your progression as a rider. Instead of having to fix your bad habits as a rider or while working around horses, they persist as your horse has adapted to them. Likewise, you've started to ignore your horse's quirks and forget that you shouldn't let him get away with certain things.
Riding and working with horses is a never-ending learning process, but one that you might start to neglect when you reach a comfort zone with your own horse. What steps do you take to continue improving as a horseperson?
There are plenty of ways to make sure that your skills as a rider and horseperson don't become stagnant. You can take lessons on your own horse or attend clinics with different trainers to get feedback on your riding and your horse's performance. You can sign up for lessons at a different stable to get some saddle time on horses other than your own. You can have someone videotape your rides so that you can see problems that you might not catch while you're in the saddle. Even reading books and articles or watching training videos can help you get new ideas on how to improve your riding.
Click "Submit a Comment" below and tell us what you are doing—or what you'd like to do—to improve your skills as a rider and horseperson. Some of our favorite responses may be printed in a future issue of Horse Illustrated.
One selected response may be selected by the editors to win a monthly prize! If you would like to be eligible for the prize, please include your email address in the comment form (email addresses are not publicly displayed.)
See all HI Spy questions >>