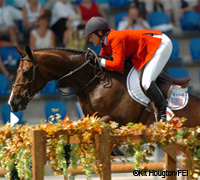 If you were lucky enough to grow up on a horse farm or in an equestrian family, you may have been inspired by your parents or older siblings.
If you started riding at a lesson barn, maybe it was your instructor or the resident trainer who served as a role model. Perhaps another student at the barn was influential.
On the other hand, maybe you found your equestrian role model on TV or in the pages of magazines. Did the Lone Ranger inspire you to seek out your own Silver to gallop across the range, or did watching Beezie Madden (or perhaps William Steinkraus, depending on your age) bring home the Gold motivate you to pursue your own Olympic dreams?
While riding can be a solitary sport, most equestrians find inspiration from others at some point in their career. Whether your hero was a famous international rider, the talented backyard trainer next door or a fictional character from your favorite novel, we want to hear about them. Tell us about the person who has inspired you in your riding career.
See more HI Spy Questions >>