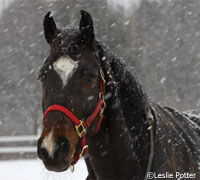 Horse owners and riders don't typically look forward to winter. For most of the United States, winter is inhospitable to riding and working in the barn.
But enough negativity! Even if you don't have a heated indoor arena or a ticket to the winter show circuit in Florida, surely there's something you look forward to in winter. Your horse looks cute when his fuzzy winter coat grows in. The trails are peaceful and free of flies. When the ground is frozen, your horse can't get himself caked in mud every day. You just bought a new, bright pink blanket and you can't wait to see how it looks on your horse against a snowy backdrop. Or maybe you just enjoy spending a long, chilly morning working at the barn followed by a cozy afternoon with a cup of hot chocolate and the latest issue of
Horse Illustrated
.
Let's think positive this year. As you pack away your show clothes, fly spray and lightweight riding clothes, what are you looking forward to this winter? Share your response by clicking "Submit a Comment" below. Some of the best responses may appear in a future issue of Horse Illustrated.
See all HI Spy Questions >>