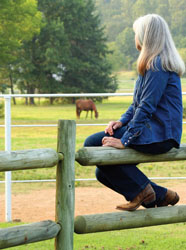 No matter how experienced and confident you are with horses, chances are you've experienced fear at some point in your equestrian life.
Some amount of fear is actually healthy. Fear is a natural instinct that kicks in when you realize that you may be in danger, even if that realization is subconscious. Ignore your fear and you may get yourself hurt. On the other hand, if your anxiety is preventing you from being an effective rider, you need to find a way to work through it.
Fear can be triggered by a traumatic event. If you've had a bad fall or have been kicked in the pasture, you may find that you feel afraid in the saddle or around horses when you didn't before. Some riders feel fine most of the time, but lock up when they have to do something outside their comfort zone, such as jumping an oxer or riding through a particularly spooky trail.
Sometimes there isn't a concrete cause. Plenty of riders feel a general anxiety in the saddle even with a horse they've ridden many times doing things they regularly do.
Fear doesn't have to prevent you from enjoying horses. The key is to manage it and learn how to work through it. Do you ever experience fear when riding or working around horses? How do you work through it? Click "Submit a Comment" below and share your thoughts with other HorseChannel.com visitors. Some of our favorite responses may be printed in a future issue of Horse Illustrated.
One selected response may be selected by the editors to win a monthly prize! If you would like to be eligible for the prize, please include your email address in the comment form (email addresses are not publicly displayed.)
See all HI Spy questions >>