Many of us learned to ride on reliable old school horses. Whether you were an overzealous kid trying (unsuccessfully) to coerce the horse into a gallop when the instructor's back was turned, or a white-knuckled newbie just hoping to stay on, that horse took care of you. He knew when to respond to your clumsy cues and when to wait and let you try again. On that steady old schoolie's back, you created a solid foundation on which to build your horsemanship skills for the rest of your equestrian career.
Or maybe that's not how it happened. Perhaps you acquired a devious pony during your horse-crazy-kid years or found yourself overwhelmed as a novice rider after deciding to chase your lifelong dream of horse ownership. Your introduction to horsemanship was trial by fire. Your mount did not accommodate your beginner mistakes. Instead, he found your weaknesses and exploited them, bucking, bolting or finding a low-hanging branch to get rid of you so he could go graze peacefully in the nearest field. But thanks to your tenacity, you developed a seat like glue and the ability to anticipate your horse's next move, all thanks to the renegade equine that served as your first teacher.
Whether your first mount was an angel or a demon, or a little bit of both, we want to hear about him. Click "Submit a Comment" below and tell us about your first horse, or the horse that taught you how to ride at the dawn of your days as an equestrian. Some of the responses may appear in an upcoming issue of Horse Illustrated.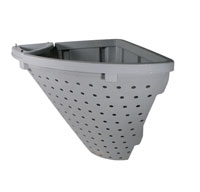 This month, one selected response will win a Fresh Aire Cone Hay Feeder from Tarter Farm and Ranch Equipment! This feeder holds up to 4 flakes of hay and allows your horse to feed the natural way, reaching down instead of reaching up. Corner mounted; bolts to the corner of any stall or attaches to a paddock fence. Retail value: $247. Please include your e-mail address if you would like to be considered for the monthly prize (e-mail addresses will not be displayed publicly.)
See more HI Spy Questions >>