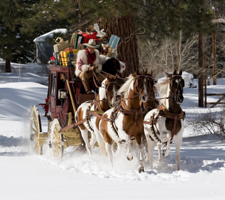 You probably haven't even picked out your Halloween pumpkin yet, but there are subtle hints that the holiday season is just around the corner. The days are getting longer and our horses' coats are growing fuzzier by the minute. And, just in case you haven't noticed, many retailers have slyly positioned red and green hued items on prominent shelves, subliminal hints that it's time to start compiling your annual wish list.
As horse lovers, the holidays are usually our one big chance to get those special items we need to indulge our passion for riding. For example, Mandy McKellar of Portland, Oregon is hoping that her parents will underwrite her newfound interest in dressage. "I just started college, money is tight, and I can't afford to ride more often. It'd be great just to get a gift certificate in a card saying, 'Here. We pre-paid for some dressage lessons for you'."
Marie Jones of Anaheim, California, takes a more direct approach. She bends back the pages of catalogs offering horsey home décor, riding apparel and specialty horse tack. Then she circles the stuff of her dreams with a magic marker. "I know it sounds a little mercenary, but my husband is completely non-horsey. He gets confused easily and he's always afraid he'll order the wrong thing."

What are you hoping for? Have you been browsing through catalogs, surfing online horse sites or wandering the aisles of your local tack store? Does your horse really, truly need something that only "Santa" can deliver? If so, we want to hear about it! Consult with your horse and then share what's on the top of your holiday wish list by clicking on "comments" below. Just like previous installments of HI Spy, some of your responses may be featured in an upcoming issue of Horse Illustrated magazine.