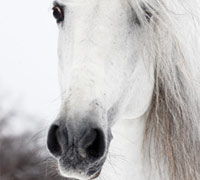 Just like humans, every horse has his own quirks. Sometimes these little idiosyncrasies are endearing. Take, for example, the horse who nickers for his owner's attention every time she visits with another horse in the barn, or the one who will make funny faces after being given a favorite treat. Other times, these quirks can be annoying, like a clever equine who figures out he can hinder bath time by stepping on the hose or the pony who digs a hole in the front of his stall and seems to laugh when distracted humans step into it.
Many times, your horse's unique traits are neutral. They probably won't land him a spot on the David Letterman show to perform a stupid pet trick, but they don't cause any harm, either. They simply make your horse a unique individual!
Is there a quirky equine in your life? Click "Submit a Comment" below and tell us all about him. Some responses may be selected for publication in a future issue of Horse Illustrated!
One selected response may be selected by the editors to win a monthly prize! If you would like to be eligible for the prize, please include your email address in the comment form (email addresses are not publicly displayed.)
See all HI Spy questions>>