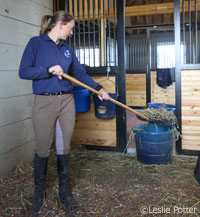 Life improved for stall-muckers everywhere with the invention of the lightweight manure fork. What invention would you create to revolutionize the horse world? Photo: Leslie Potter
As a horseperson, you've likely come to depend on certain items of tack or barn equipment. If you've ever mucked a stall with a heavy, metal shovel, you understand the beauty of lightweight manure forks. Battling moldy leather in a humid climate might lead you to celebrate synthetic tack. For those in the northern climates, what could be better than heated buckets to keep your horse's water in a liquid state through the coldest nights?
Riding and horsekeeping have come a long way since the dawn of equine domestication, but there are still headaches that all riders and horse owners deal with every day. If you could invent one item to make your life as a rider or horse caretaker better, what would it be? It doesn't even have to be completely realistic. Use your imagination, and come up with the horse world's next must-have product.
Share your invention by clicking "Submit a Comment" below. Some responses may be selected for publication in a future issue of Horse Illustrated!
One selected response may be selected by the editors to win a monthly prize! If you would like to be eligible for the prize, please include your email address in the comment form (email addresses are not publicly displayed.)
See all HI Spy questions >>