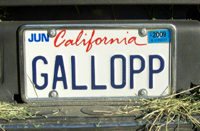 You are what you drive. At least that's what the truck and car manufacturers would like us to believe. But that saying may hold true for horse lovers.
Many of us drive pickup trucks for more than just hauling horses. We simply feel at home behind the wheel of a utilitarian vehicle. If we need several sacks of feed or have to heft some bedding back to the barn, a truck sure comes in handy.  And just to make sure the world knows we're serious about caring for horses, there's usually some hay scraps hitching a ride on the back bumper.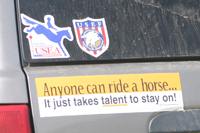 If a car is your standard mode of transportation to and from the barn, it probably also bears testimony to your horse loving nature. Chances are your car's trunk is a treasure trove of horse stuff. If someone popped it open, they might discover a spare pair of boot socks, a dusty helmet or an extra halter or bridle. And what's strewn across your backseat or tucked under the front seat? Likely finds include old horse show premiums, receipts from the tack store, a (somewhat) clean sweatshirt and that long lost riding glove.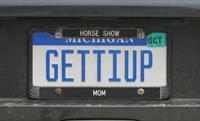 No horse lover's set of wheels would be complete without a sprinkling of animal hair clinging to the seat cushions, whether it's courtesy of a recently curried horse or the resident barn dog. Then there's that gritty dirt that falls off the soles of boots and collects around the gas and brake pedals.  It's a wonder that we even try to keep our vehicles clean!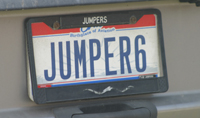 In this installment of HI Spy, we'd like to know how your vehicle matches your horse loving lifestyle. How does your truck or car reveal that you're a horse lover? Do you have a personalized license plate that declares your passion? Are you driving around with half the contents of your tackroom in your backseat? Click on Submit a Comment below and tell us about your horse mobile. Some comments may appear in a future issue of Horse Illustrated magazine.
See more HI Spy Questions.