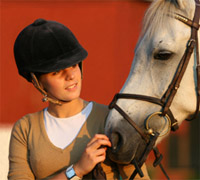 Participating in equestrian activities can be very rewarding. Horse ownership, with all its ups and downs, is an experience that can't be matched by anything else. Still, most horse people will admit that they've had to give up or go without certain things in order to maintain their equestrian lifestyle.
The most obvious sacrifice is financial. Horses are expensive, but the majority of horse owners aren't rich! You probably don't often dine at fancy restaurants and your idea of updating your wardrobe might consist of finding new barn jeans at the local thrift shop. While your friends are enjoying $4 lattes and shopping for the latest fashions, you're working out your farrier and supplement budget for the next six months.
Horses are time-consuming. Plenty of horse owners sacrifice lazy Saturday mornings to head out in all kinds of weather to toss hay, scoop grain and muck stalls. If you compete, you've undoubtedly had to pass up barbeques and camping trips in order to spend a summer weekend at a show. Even meeting up with friends for an afternoon can be a logistical challenge when you need to fit in a riding lesson or training session with your horse.
On the other hand, maybe your equestrian life has taught you to sacrifice evenings wasted in front of the TV or your previous concerns about going out in public with dirt under your nails (and in your hair, and on your clothes) and you're better for it.
Whatever sacrifices you've made, when you gallop down the trail, achieve a show-ring goal, or hear a friendly nicker when you walk into the barn in the morning, you know you've made the right choice.
Tell us what you've given up to have horses in your life–and why it's worth it–by clicking "Submit a Comment" below. Some of the responses may appear in a future issue of Horse Illustrated.
See all HI Spy Questions >>