Horses are expensive. With hay and grain, housing, vet and farrier costs, a horse owner's wallet is forever feeling the squeeze. Add to that the costs of tack, training, lessons and shows and it's clear that riders have picked one of the most expensive sports around.
There's a pervasive image of equestrians as elitists and riding as a sport only available to rich country club members. However, a
recent survey
shows that most horse owners are middle class and are finding ways to afford their horses without the benefit of a bottomless bank account.
You probably make a lot of sacrifices to keep up your equestrian lifestyle. Maybe you can't afford the latest fashions, annual vacation or daily morning latte that your non-horsey friends enjoy. Beyond that, how do you afford to ride and own horses? Have you found a great way to increase efficiency at the barn? Have you found useful but inexpensive alternatives to use in place of pricey tack or stable goods?
Share your money-saving tips with fellow horse lovers by clicking "Submit a Comment" below. Some of the responses may appear in a future issue of Horse Illustrated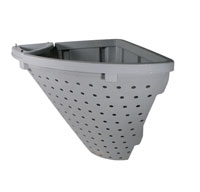 This month, one selected response will win a Fresh Aire Cone Hay Feeder from Tarter Farm and Ranch Equipment! This feeder holds up to 4 flakes of hay and allows your horse to feed the natural way, reaching down instead of reaching up. Corner mounted; bolts to the corner of any stall or attaches to a paddock fence. Retail value: $247. Please include your e-mail address if you would like to be considered for the monthly prize (e-mail addresses will not be displayed publicly.)
See more HI Spy questions >>