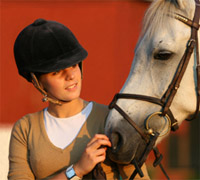 The language barrier between horses and humans can be cause problems in an otherwise harmonious relationship. You can sort things out most of the time, but occasionally, your horse presents a mysterious quirk. Wouldn't life be easier if you had a horse-to-English translator?
If you had the opportunity to ask your horse a single question, what would it be? Would you want to know what's so scary about those purple flowers by the barn door? Or why he insists on chewing up his blankets? Or what he was doing out in the pasture when he got that scrape on his left hock?
Perhaps you'd go for a more philosophical slant. What does he think of humans? Does he mind being ridden, or would he prefer to be left alone?
Or would you succumb to the temptation to seek affirmation from your horse? Does he really like you? Does he like you better than his previous owners? What could you do to make him like you better?
Tell us what you want to ask your horse by clicking "Submit a Comment" below. Choose carefully! You only get one question.
Some of the answers may appear in an upcoming issue of Horse Illustrated. One selected response may be selected by the editors to win a monthly prize! If you would like to be eligible for the prize, please include your email address in the comment form (email addresses are not publicly displayed.)
See more HI Spy questions >>