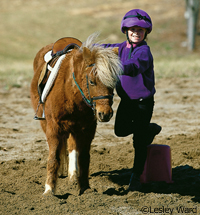 Are they angelic creatures who make wonderful teachers for aspiring young riders? Or are they more like the devil in disguise, just waiting to nip your sleeve, step on your foot or dump you in the dirt? If you haven't guessed, we're talking about ponies. Whether they're good little ponies with hearts of gold or conniving critters who take advantage of unsuspecting humans, ponies have left their tiny hoofprints in the lives of many horse lovers.
"My parents couldn't afford to buy me a nice horse when I was a kid," recalls Brenda Springer of Mesa, Arizona, "so I ended up with this barely broke, half-Arab pony cross named Shamrock that was maybe 14 hands. When I think back, it was totally the wrong thing for my parents to do, to just turn me loose with this wild pony. Thank goodness he was so small because it wasn't far to the ground! After I'd come off about a dozen times my parents wised up and got me some lessons with a trainer and, amazingly enough, Shammy and I ended up showing in western pleasure and trail. We went from a couple of ragamuffins to winning a lot of ribbons. I must say, Shammy really taught me how to ride. When I outgrew him, it broke my heart to sell him. No matter how many great horses I've had, I'll always love that little guy."
Another benevolent soul was a pinto pony named Ladybug, who became a local legend on California's A-rated show circuit. A suburban family bought her for just a few hundred dollars from a seedy nighttime auction. Once she was clipped and fattened up, little Ladybug blossomed into a fancy pony. She seemed perfectly happy to be ridden. When asked to jump, she did so in fashionable style. She even learned flying lead changes without hesitation. Eventually she ended up winning numerous pony hunter championships and endearing herself to a succession of loving families.
But for every Shamrock and Ladybug there's a pony like Mikey who, the story goes, would lie down in the middle of a riding lesson if he became bored. Or Lulu who'd be gleefully galloping down the trail, only to stop suddenly and dive her head into the grass, thereby tossing her rider over her head. Every pony, it seems, is special in its own memorable way.
Which type of pony have you known? Whether it was a good pony or a bad pony—or somewhere in between—we'd like hear your special pony tale for this installment of HI Spy. Just click on Submit a Comment below. Some of the responses will appear in a future issue of Horse Illustrated.
See more HI Spy Questions.