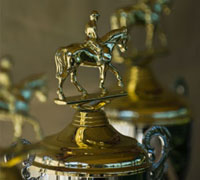 Riding instructors are often greeted by new students who proclaim at their first lesson that they dream of riding in the Olympics. Of course, a more realistic goal would be to try and win a local, regional or national medal. But there's nothing wrong with lofty aspirations, right? Dreams are what compel us to climb back in the saddle even after a fall or a rough day. Only through determination and desire will we eventually jump that oxer, perfect the canter or remain calm when our horse spooks at the neighbor's barking dog for the hundredth time.
As riders, we all aspire to reach some level of achievement. Often it's a measurement of personal success, such as conquering the fear that comes after a riding accident or learning to be more pro-active in dealing with a horse's aggressive behavior. Other riders seek more tangible rewards. They set their sights on winning a blue ribbon in an equitation class or qualifying for the finals at a year-end show. Finally there are the very practical goals that just need a little bit of fine-tuning to make them a reality. For example, an avid trail rider may be determined to get her hydrophobic horse accustomed to crossing water. A good dose of patience coupled with some wisdom from a veteran trail rider or a knowledgeable clinician will help her achieve that.
So what is your goal? What's the one thing that you dream of achieving as a rider? We'd like to know, whether it's something connected to a particular horse or an aspiration you have as an individual. Share your riding goal with your fellow readers here at www.HorseIllustrated.com. Just click on Submit a Comment below.
See more HI Spy Questions >>