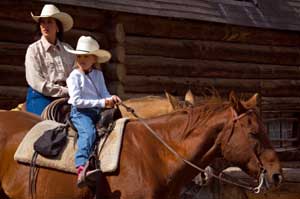 A variety of Mother's Day cards fill the market shelves, but there aren't any that thank Mom for aiding and abetting her child's love affair with horses. There should be. After all, where would most of us be if it weren't for our mothers indulging us in our horsey habits? If you competed, no doubt you had a Horse Show Mom. Her involvement in your pursuit of blue ribbons probably ranged from idly cheering you on from the bleachers to rabidly confronting the judge if his score card didn't agree with hers. Or you might have been blessed with a mother who also rode. Such a horsey mom dispensed maternal wisdom on how to groom a horse, feed a horse and climb back up on a horse once you'd been tossed off. Linda Hanson, whose pre-teen daughter Kristin is fully involved in riding and showing, fits somewhere in between.

"Kristin wasn't really horse crazy to begin with," Linda recalls. "But when she was 5 or 6 she attended a summer camp in our community and it included riding lessons at the equestrian center. After just four days, the parents were invited to watch the kids participate in a little horse show and there she was, this itty bitty tiny thing up there so proud, on the back of horse. And I thought, 'Wow, this is really great!' And that," Linda says, with a hint of a sigh, "is how it all started."

Suddenly thrust into the role of a Horse-Crazed Kid's Mother, Linda had to quickly acquire skills she'd never embraced before. "I had very limited exposure to horses," she admits, "but I've learned that being involved with horses is an all-or-nothing sort of thing in order for your child to be safe and successful."

The Southern California mom can now hitch up and haul a trailer, strap splint boots on a jumper, groom and tack up a pony and decipher a horse show premium. Sometimes she's exhausted, but she figures it's all for a good cause.

"Riding keeps Kristin busy. It keeps her out of trouble," she says. "And it's something she loves and really seems to be good at, so…"

So Linda Hanson, like many other moms, will probably be spending Mother's Day somewhere near a horse.

What about your mom? Was she supportive of your horse habit? Do you have a Horse Show Mom worthy of her own trophy? Does your mom ride with you, or with her own group of horsey moms? We'd like to know! Share your stories by clicking on "Submit a Comment" below. Some of the responses will be featured in an upcoming issue of Horse Illustrated magazine.
See more
HI Spy questions>>