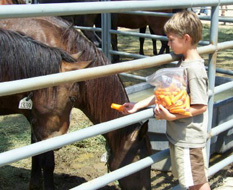 Tara Selheim watched her two young children feed carrots to some curious mustangs. The afternoon spent at a recent BLM adoption event in Norco, California, was more of an educational field trip than a horse buying excursion.
"Oh, we're not here to adopt one. That's out of the question for us," the mother explained. "But I thought this would be an opportunity for my kids to see horses that grew up in the wild because, who knows, they may not be around forever."
That was a common sentiment among visitors who browsed though several pipe pens filled with plump yet scruffy mustangs. Most people merely came to see the symbols of the American West. Few were there to actually take one home. Of the 50 mustangs available this particular weekend, only 20 were eventually adopted. Even more disconcerting, the BLM's goal for 2008 was to find homes for about 4,500 wild horses and burros. They're little more than halfway there, and the BLM's fiscal year concludes at the end of September. Reasons for the lack of adoptions include a shaky economy, rising feed costs and the public's growing realization that starting a mustang under saddle is not for the average backyard horse lover.
Karen Beddie said that her daughter, 13-year-old Brittany, would love to adopt a mustang. But the family already owns several horses and there simply isn't room for one more. Besides, Beddie knows that taming a feral horse is beyond the current capabilities of her daughter. She underscores that sentiment by revealing, "I put Brittany through a year's worth of riding lessons before I let her get a horse. And even then it was an older pony."
If Selheim and Beddie were familiar with the challenges of managing a mustang, many of the attendees were not. Though a pair of colored yearling fillies—one buckskin, the other roan—seemed docile enough, their demeanor was misleading. Several potential adopters seemed surprised to learn that the sweet-faced fillies, along with all of the other mustangs, were basically untouched by human hands.
"The only time they've been handled is when they were put in a padded squeeze chute to be vaccinated, de-wormed and branded," stated Art DiGrazia. As head of the Wild Horse and Burro Program for the California Desert District, he also serves as a mentor to those who'd like to adopt a mustang.
When some interested horse lovers offered that they'd worked with PMU horses, and therefore felt equipped to handle a mustang, DiGrazia was quick to clarify the difference. "These are not like a PMU horse that has been around people most of its life. You can't really compare them."
To help prevent cases of adopter's remorse, DiGrazia tries to educate the public at each adoption event he oversees. "I spend about 45 minutes telling people, 'Here is what you're getting yourself into'. One of my main points I try to get across is that this is a scared horse and it requires two things: time and patience."
As DiGrazia imparts knowledge on how to gentle an adopted mustang, the BLM continues to struggle with what to do with the mustangs it still has. There has even been talk of euthanizing some of the horses considered "unadoptable" such as older stallions currently warehoused at BLM facilities.
"That would be a shame," commented Janet Schaeffer, who had paused to evaluate the conformation of a flashy sorrel. "I'd rather that the BLM came up with a better conservation plan to manage the herds."
When asked if she was considering adopting the sorrel, she quickly replied, "No. Right now, with hay being so expensive, I can barely afford the horse I have. But maybe," she added, staring wistfully at the red horse, "someday. It might be an interesting project."