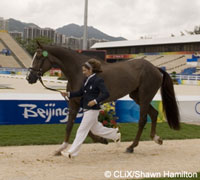 The 2008 Olympics are underway. Pictured are eventer Gina Miles and McKinlaigh.
Olympic three-day eventing competition is underway and U.S. horses look great. Before the 2008 Olympic Games officially began, all international competitors had to put their horses through their paces at an official inspection. All five U.S. horses passed with flying colors, looking fit and sound when they were presented before the Gound Jury in the main arena at the Sha Tin venue at the Games.
Here is the list of the U.S. horses, in alphabetical order, with their rider named in parentheses: Connaught (Phillip Dutton), Courageous Comet (Becky Holder), Mandiba (Karen O'Connor), McKinlaigh (Gina Miles), and Poggio (Amy Tryon). These five horses make up one of 11 teams vying for medals out of 72 total horses from 24 countries.
2004 U.S. Olympic bronze medalists Amy Tryon and Poggio, in their second Olympics together, are the first U.S. combination to ride for the team. The dressage phase of the competition runs Aug. 9-10, followed by the cross-country phase on Aug. 11, and show jumping on Aug. 12.
Tryon isn't the only U.S. competitor with Olympic experience. Karen O'Connor is riding in her fourth Olympic Games. "It is an honor to represent the country," she says. "It is a great personal goal to have achieved. I'm really excited and I'm looking forward to the whole competition."
Sadly two horses from South America, Literal and Butterfly (ridden by Chile's Ricardo Stangher and Brazil's Fabricio Salgado, respectively), both failed inspection, which means they are out of the Games.
In other Olympic eventing news, Mark Todd (New Zealand) has become the darling of the Games at the moment. The 54-year-old eventer came out of retirement last January in an attempt to qualify for the 2008 Olympic Games. He is attempting to realize his dreams of a third gold medal, this time aboard the mount Gandalf.
For the latest Olympic results, visit /redirect.php?location=http%3a%2f%2fwww.fei.org%2f.