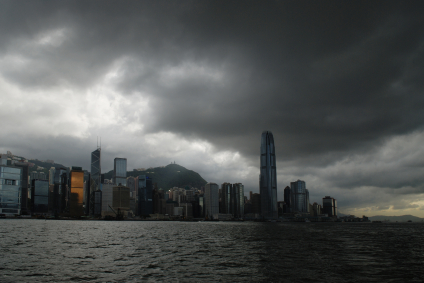 According to the Associated Press (AP), 24 horses due to arrive in Hong Kong by plane on Wednesday for the Olympic equestrian competitions have been delayed by a severe tropical storm. The horses, from the U.S., China, the United Arab Emirates, Australia and Saudi Arabia, were on two flights from Amsterdam.
According to the AP report, equestrian event spokesman Mark Pinkstone said he didn't expect the bad weather to affect the competition, which starts Saturday. "They'll come in as soon as the weather clears," he told the AP.
"The severe tropical storm Kammuri brought heavy rainfall and strong winds to the territory, shutting offices, courts and financial markets," the AP reports.
According to a Horse and Hound report, Australian and Saudi horses were being held in Dubai to allow the weather to improve. As of Wednesday morning, the other teams had not left Amsterdam. In Hong Kong, the British and other equestrian teams were confined to indoor facilities while the tropical storm raged.
Kammuri has been classified as a Level 8 storm by the Hong Kong Observatory. The agency reports that gale force winds have been affecting Hong Kong with storm force winds over offshore waters and high grounds. The Observatory advised the public to lock all windows and doors, fit bars and insert reinforced shutters and gates, and to stay away from the shoreline.
It is anticipated that the storm will move west of Hong Kong by Thursday. The rainfall will taper but is expected to dampen equestrian competition. The discipline most likely to be affected by Kammuri is eventing (the dressage phase of the competition begins Aug. 9).