Summertime is a time for family, fun and the sun. If you're the parent of a horse-crazy child, summertime also means horse time. One popular and often very memorable and educational way to help your child maximize summer horse time is to send him or her to a summer horse riding camp.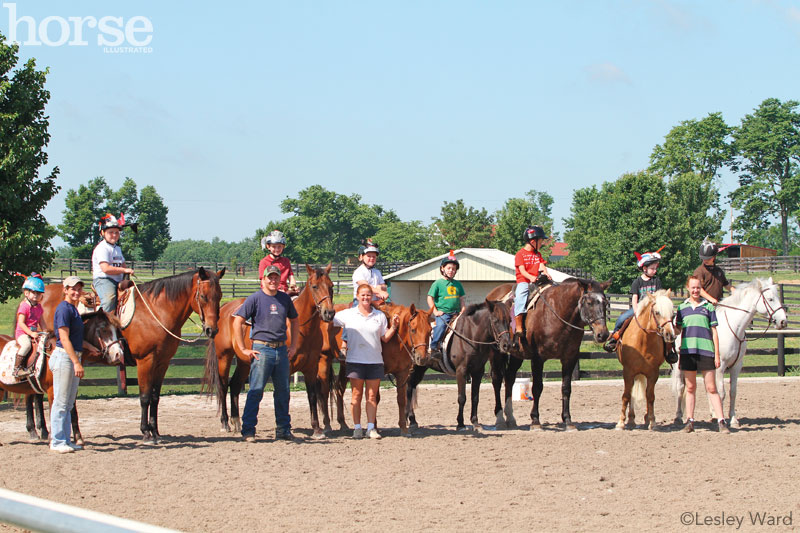 Sending your child to any camp requires research, and horse riding camps are no different. The search can be overwhelming, so we've compiled some information to help you find a camp, pack for the camp and more.
Types of Summer Horse Riding Camps
One of your first steps in your search for the perfect summer horse camp is to decide what kind of camp you want your child to attend. Various factors should weigh into this initial decision.
Length of camp term:

There are camp options ranging from day camps to week-long camps to even month- and summer-long overnight camps. Your child's comfort level of being away from home is an important factor in deciding what camp format is best.

Horse ownership:

Many camps have their own horses for campers to ride, and some camps allow or require you to bring your own horse.

Riding facilities:

Some camps are strictly arena-based, some are strictly trail-based and others are a mixture of the two.

Riding discipline:

There are so many different disciplines within the horseback riding sport: English, western, trail, hunter/jumper, eventing, dressage, vaulting, reining and more. Some camps offer a variety of disciplines while others focus on one or two specific disciplines.

Riding format:

Some camps will assign a specific horse to each rider for the duration of the camp, and others will purposely rotate riders and horses. Additionally, some camps ride twice or even more than twice a day while others ride once and day and then focus on other traditional camp-related activities, such as swimming and arts and crafts, for the remainder of the day.
If your child is interested in riding but has not yet had the opportunity to ride, make sure the camp you choose has experience introducing young riders to the horse world.
How to Find a Reputable Summer Horse Riding Camp
There's no one way to know if a camp will be a perfect fit for your child. However, there are some things you should absolutely confirm before dropping your child off for his or her horse-filled days.
Consider:
Safety:

The camp's website and marketing materials should promote safe horsemanship and horse keeping. For example, riders should be wearing helmets, horses should appear to be in good health, and facilities and fencing should look well maintained.

Recommendations:

The Internet is full of various forums and feedback tools for all sorts of businesses. While it's hard to know if everything is believable, do take some time to see what others have written about a camp. Your research will allow you to generate some good questions for the camp staff. You can also ask around your local horse community for recommendations.

Instructor qualifications:

Make sure to find out the qualifications for camp staff and camp counselors. A reputable camp will have a hiring process that requires staff and counselors to have a wealth of horse knowledge as well as a passion for teaching and a clear emphasis on safety.
What to Bring to Summer Horse Riding Camp
The list of what to bring to a horse camp is likely never ending. Every child has his or her favorite items and necessities. However, here's a starting point for the horse-related items:
Make sure to bring:
An ASTM/SEI certified riding helmet. We recommend one with ventilation since it's often quite warm in the summer months. Most camps will have loaner helmets available, but for safety and hygiene, it's preferable for campers to have their own.
Shoes with a heel (These can be cowboy boots, paddock boots or tall boots. No matter what style, riding shoes should have a small heel to prohibit the shoe from potentially slipping through the stirrup.)
Tall socks
Riding pants (Breeches/jodhpurs or jeans – whatever your child prefers and the camp recommends. If your child is going to any kind of overnight camp, make sure to pack several pairs.)
Riding shirts (These can range from comfortable t-shirts to specifically designed horseback riding shirts. No matter what shirt style you pack for your child, make sure it is a breathable fabric. Keep in mind that riding and barn work are hard on clothing—if your camper has a favorite outfit that they'll want for the school year, don't send it with them to horse camp!)
At least one large, insulated water bottle (Hydration is incredibly important for any athlete. Horseback riders are no exception!)
Sunscreen and bug spray
Gloves (optional depending on rider preference and camp recommendations)
Camera. In an effort to encourage kids to unplug, some summer camps prohibit use of electronics, including cell phones. But you can send along your old point-and-shoot so your camper can snap some shots of his or her friends and favorite camp horses.
And any specific camp-recommended items
If you choose to send your child and his or her horse to a camp, the camp should provide a specific list of what you need to pack for the horse.
What Your Young Rider Will Learn at Summer Horse Riding Camp
Every camp is unique, and what your child will learn at his or her summer riding camp will also be unique. What you can hope is that your child will return to you with can include:
Even more horse stories to share

More general horse knowledge, such as the anatomy of a horse, proper grooming and hoof care, different horse colors and horse breeds, general horse health and more

Safety around horses and when riding

Experience riding in a new place

Experience riding a new horse or horses

New horse-crazy friends

New riding exercises
No matter what kind of summer horse riding camp you and your child pick for his or her horse-filled summer, remember that with safety in mind and you and your child's expectations and goals driving the decision, you won't go wrong.

At great summer horse riding camps, the passion for horses and the joy of sharing horse knowledge with others undoubtedly brings together a wonderful and incredible group of staff and counselors who will do everything in their power to help your child have the best horse-filled summer possible.