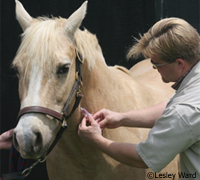 The Infectious Disease Committee of the American Association of Equine Practitioners (AAEP) has issued revised guidelines for the vaccination of horses. The Committee has made recommendations for the use of vaccines based on the age of the horse and the animal's previous vaccination history. Highlights of the guidelines include the identification of tetanus, Eastern/Western Equine Encephalomyelitis, West Nile virus and rabies as "core" vaccines. The committee defines core vaccines as those that have clearly demonstrated efficacy and safety, and exhibit a high enough level of patient benefit and low enough level of risk to justify their use in the majority of patients.
Additionally, there is now a protocol for the anthrax vaccine, along with recommendations for the storage and handling of vaccines, as well as information on vaccine labeling and adverse reactions.
Download and print a copy of the AAEP's recommended vaccine chart here.
Read the AAEP's full guidelines at http://www.aaep.org/vaccination_guidelines.htm.