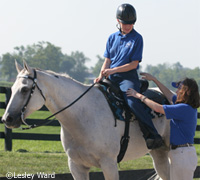 In the old days, horse trainers, breeders and managers learned their trade solely through apprenticeships or from family members. A high school education wasn't considered necessary, much less a specialized degree. Today, internship and working student positions are still invaluable, but more and more aspiring equine professionals are opting to also earn a degree in equine studies.
Why Go to College?
Horse sense can only be learned through hands-on experience with horses, but the 21st century horse industry demands more from its professionals than just skill with horses. Horse trainers, riding instructors and barn managers must have skills in marketing, communication and business management in addition to knowledge of horses. A good college equine studies program gives students the opportunity to learn hands-on skills in the barn alongside classroom lessons.

For recent graduates looking at entering one of the toughest job markets in recent history, having a wide variety of skills is an invaluable asset. Many careers in the horse industry require a degree, including nutritionists, veterinary technicians, marketers and even customer service representatives at some equine companies. Even if you want to train horses for a living, having another set of skills will give you a safety net during a down economy when training jobs are hard to come by.
Additionally, a college program has a network of professors, alumni and fellow students, which will help you land internships and jobs that you might not find elsewhere.
Which is the Degree for Me?
There are several options for equine-related degrees. The one you choose will depend on your career goals and finances.
Associate of Applied Science (A.A.S.):
This is a two-year, vocational degree that typically does not include a lot of general education classes. Students in A.A.S. programs learn the skills necessary for their chosen career without the need to complete a Bachelor's degree.
Associate of Science (A.S.) and Associate of Art (A.A.):
These are also two-year degrees, but unlike the A.A.S., they are usually meant to be the first steps toward a Bachelor's degree and will probably include some general education requirements in addition to courses related to the major. Completing an A.S. at a community, technical or junior college is often a less-expensive option than taking the full four years at a university.
See the list of Equine Studies Associate Degree Programs >>
Bachelor of Science (B.S.) or Bachelor or Arts (B.A.):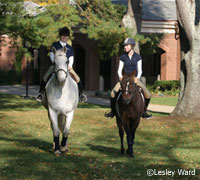 A Bachelor's degree is designed to be completed in four years for full-time students. Degree requirements usually include extensive general education courses in addition to specialized classes. A Bachelor's degree meets or exceeds the formal education requirements for most careers within the horse industry.
See the list of Equine Studies Bachelor's Degree Programs >>
Master of Science (M.S.) or Master of Arts (M.A.):
Master's degrees usually take an additional one or two years after the completion of a Bachelor's degree. These degrees are designed to give students experience conducting original research in a specific field of study. For equine science students, advanced degrees usually fall under the category of Animal Science and require a concentration such as nutrition or genetics.
See the list of Equine Science post-graduate degree programs >>
Doctor of Philosophy (Ph.D.):
This degree is the highest level of achievement in the American system of formal education. A Ph.D. is a requirement only for advanced researchers and some university professors. Some equine veterinarians may also pursue advanced degrees in a specific area of interest.
Does Accreditation Matter?
The United States Department of Education recognizes certain accrediting agencies as "reliable authorities as to the quality of postsecondary education." Those agencies in turn award accredited status to colleges and universities that meet a certain set of standards. You may be able to get a good education from an unaccredited school. However, in most cases your credits will not transfer should you choose to continue your education and if potential employers require a degree, an unaccredited one may not count.
If you're seeking an accredited school, make sure that it is accredited by an organization recognized by the U.S. Department of Education. Use caution, especially with online degree programs, and use the Department of Education's search function to make sure your chosen school is recognized. 
Intercollegiate Riding
If you are pursuing an equine degree, chances are you'll want to ride through college, too. Most colleges with equine programs will have opportunities for you to do so. Some schools that don't have intercollegiate teams still have plenty of riding opportunities in the form of lessons and competing at open shows.
Resources

Equine Studies Associate's Degree Programs

Equine Studies Bachelor's Degree Programs

Equine Studies Advanced Degree Programs

Featured Veterinary Schools