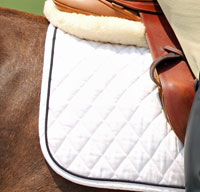 Baby pads aren't for baby horses. They're thin rectangles of
cotton (about 32" x 28") that fit between your horse's back and whichever other
saddle pad you'd like to keep clean and neat. Not to be confused with traditional
square saddle pads, baby pads are nondescript: they're rarely any color other
than white and look like a larger version of the quilted wraps you use to
bandage a horse's leg. So what's the point of a baby pad? At shows they're placed
beneath the fancy pad while the rider schools in the warm-up ring. Then, at the
last moment, they're pulled from the horse's back so the show pad remains pristine.
At home, baby pads come in handy for professionals who ride multiple horses
each day. Rather than compiling a stack of sweaty saddle blankets or worse,
carrying a dirty pad from horse to horse (potentially spreading skin infections
and fungus), a clean baby pad is used each time a new horse is saddled. Since
baby pads are relatively inexpensive and often sold in multi-packs, they're a
wiser choice than buying stacks of much prettier and much pricier square saddle
pads.
Back to
HorseChannel's Online Tack and Horse Equipment Guide