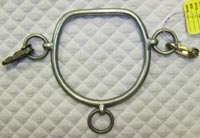 Chifney : The chifney bit is not designed for riding purposes. Instead, it's combined with a halter to help a handler control a high-spirited young horse.
Because of its circular shape, it's sometimes referred to as a "ring bit."
Small clips on each side of the bit snap to the rings located on either side of a halter's noseband. The uppermost bar or branch of the bit slides into the colt's mouth. Then a lead rope is snapped to the bottom ring of the bit, which hangs just below the colt's chin.
Chifney bits are commonly found at Thoroughbred farms and high-priced auctions where prospective young race horses are presented for sale.
Next bit >>
Back to HorseChannel's Online Bit Guide
Back to HorseChannel's Online Tack and Horse Equipment Guide