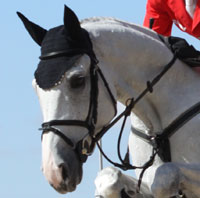 Crocheted ear bonnets (also called "ear hoods") first became
popular in the world of show jumping. Grand prix riders, competing on grass
fields during spring and summer, realized their horses were often distracted by
flies and gnats. It was disconcerting to gallop toward a 6-foot jump on a horse
that was shaking its head due to pesky insects. The ear bonnet became a welcome
addition to the show jumper's tack box. It didn't take long before riders from
other disciplines discovered the potential benefits of the ear bonnet. Today
they're a colorful accessory during gnat and fly season, even gaining in
popularity among recreational trail riders.
Tightly woven fabric encases
the horse's ears and to keep them free from gnats. Fringe and tassels along the crocheted edges
swish flies away from the horse's eyes.
When choosing an ear bonnet, make sure
the ear hoods are a roomy fit for your horse. Too snug and they're likely to
annoy your horse more than any gnats or flies.
Try the ear bonnet at home before
heading out for a ride. Let your horse wear it beneath his halter for a while
before trying it with a bridle.
Because ear bonnets are available in a
wide range of styles, designs and embellishments, make sure you understand how
to properly attach the one you selected so it doesn't come loose during a ride.
Crocheted ear bonnets are allowed in
jumping competitions and under certain circumstances in dressage. They are not
permitted, however, in classes for hunters and hunt seat equitation, including
medal classes. When in doubt, check the rules before adding an ear bonnet.
Back to
HorseChannel's Online Tack and Horse Equipment Guide