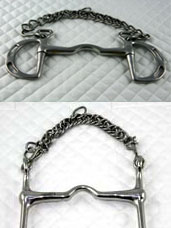 A curb chain on a kimberwick bit (top) and weymouth curb bit (bottom)
The curb chain is an integral part of nearly every type of leverage
bit, whether it's being used for English or western riding. When the reins are
pulled back, engaging the action of the bit's shank, the curb chain presses against
the horse's jaw. This encourages the horse to flex at the poll. When the horse
complies, the rider loosens or softens the rein contact, which releases
pressure from the curb chain. Proper adjustment of the curb chain is important.
Too tight and the horse is locked between the bit and the curb chain with no
chance of finding relief. Typically this results with the horse becoming
over-flexed and behind the bit. Yet if the curb chain is too loose it's non-functional,
lessening the overall affect of the bit.
Never twist a curb chain. Each link
should lie flat against the horse's jaw.
Most competition rule books require
curb chains be at least 1/2" wide.
With English leverage bits (like
pelhams and kimberwicks) the curb chain is permanently affixed to a "J" hook on
the right side of the bit. Each time the horse is bridled the curb chain is
made to lie flat, adjusted to the appropriate link, and then slipped onto the
hook on the left (near) side of the bit.
To prevent pinching or rubbing, curb
chains may be contained in a rubber guard.
Flat leather curb straps work well for
many sensitive horses, and they may be a suitable substitute with some western
leverage bits. Check competition rule books, however, to make sure leather curb
straps are acceptable for your specific discipline.
Back to
HorseChannel's Online Tack and Horse Equipment Guide