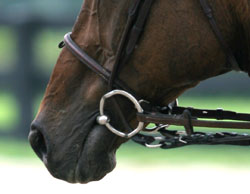 A gag bit contains a rope or rolled leather cheek piece that
slides through the bit ring when the rein is used. This pulley effect is
designed to increase the lifting action of the snaffle bit upward against the
corners of the mouth, making it an option for horses that like to run on the
forehand with their head "on the ground" going to jumps. Since this
can be a dangerous mode of transport, a tap from the gag rein is certainly a
better option.
The gag should also be ridden in two reins, making it a
normal snaffle bridle at all times until the horse plunges his head down. The
mouthpiece works best when not excessively thick (a single-jointed metal type
is most often seen). An eggbutt ring is recommended in order to keep the pulley
cord on the correct vertical plane to signal the horse to come up.
Back to HorseChannel's Online Bit Guide.
Back to HorseChannel's Online Tack and Horse Equipment Guide