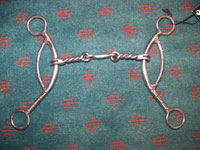 Despite the rather offensive name, gag bits can be useful
training aids when used appropriately by a rider with skilled hands. The
mouthpiece, which can vary greatly in severity, is awarded room to slide up and
down the bit rings when the rider pulls back on the reins. If the rider
continues to pull, the sliding action of the mouthpiece creates a pulley
effect, exerting pressure across the top of the horse's head through the
crownpiece of the headstall. For a gag bit to be both humane and effective, the
rider must release rein pressure the moment the horse responds to the rein cue.
Though found in the tack room of many training
barns, gag bits are not considered legal for many types of western performance
disciplines.
Gag bits are permitted in barrel racing, where
they're widely popular. The bit's design
allows competitors to quickly rate (adjust) their horse's speed.
Incorrect use of a gag bit can cause a horse to open
its mouth, flip its head and rear.
Next bit >>
Back to HorseChannel's Online Bit Guide
Back to HorseChannel's Online Tack and Horse Equipment Guide