Some horses can be ridden throughout their entire adult lives. Others may have an injury or other issue that makes them unrideable in their later years. Most horses will eventually need to have a scaled-back work schedule as they get older. This all comes with horse retirement. We talked to horse owners from around the country whose equine partners have reached the end of their ridden careers to find out how these retirees are living life now.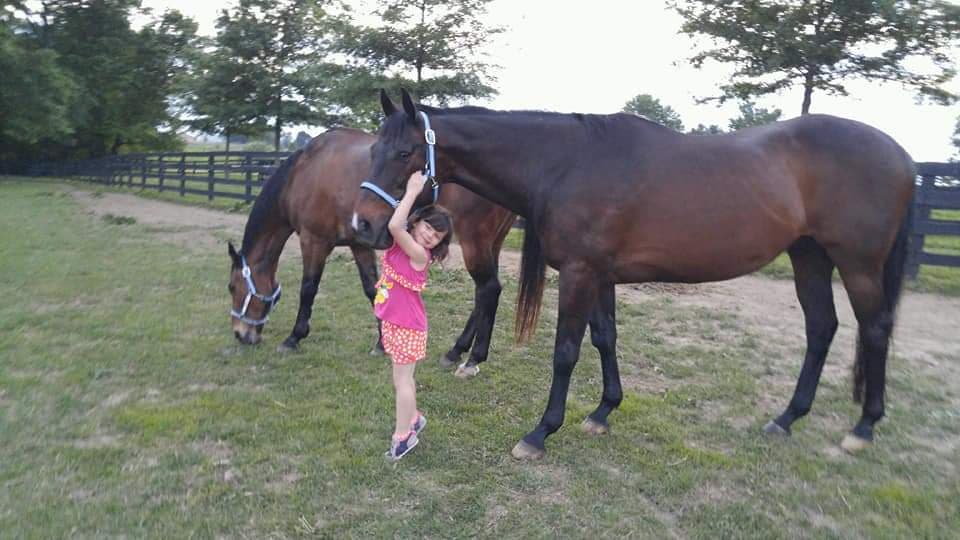 Nikki Wahl Seto & Gold Style and Tucker, Louisville, KY
Nikki Wahl Seto currently has two retired horses in her care.
"Gold Style is an off-track Thoroughbred that I was leasing from my trainer; my husband purchased him for me as my engagement gift," says Wahl Seto. "He around 7 when I started riding him.
"Tucker is an OTTB that Jessica Woodall successfully brought along through the FEI 3* level in eventing. I started leasing him in 2010 when he was around 17 or 18."
What did your horses do before they were retired?
"Gold Style and I chased some hunter circuit titles, combined tests and eventually USEA-recognized horse trials through Novice level," says Wahl Seto. "When an old bone chip limited his jumping, we switched to dressage and enjoyed some time at competing in USDF shows. He wasn't built for it, but we put in some good tests and got our only USEF recorded points. Once we were done showing, we trail rode quite a bit and even went out fox hunting once.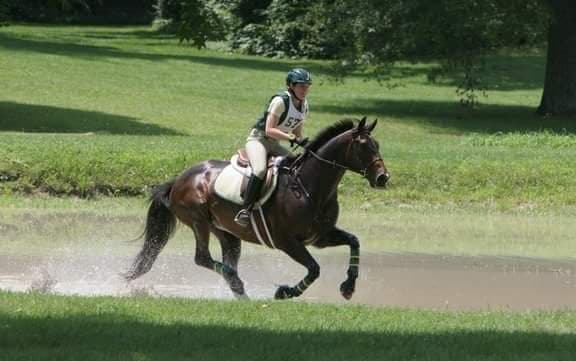 "After Jess Woodall retired Tucker from upper-level eventing, we competed at Beginner Novice, but qualified for the American Eventing Championships in 2011," Wahl Seto continues. "Five days before leaving for the show, he unfortunately injured his suspensory and our fairytale journey was over. But along the way, I jumped my first Training level cross-country jumps at the Kentucky Horse Park, and actually rode my first and only canter pirouette. What a horse!"
When and why did you decide to retire your horses?
Both horses retired from riding around the same time, though I hopped on them now and then after my daughter was born in 2012. I could feel their bodies were just not up to it with all the combined injuries that racing and showing had brought.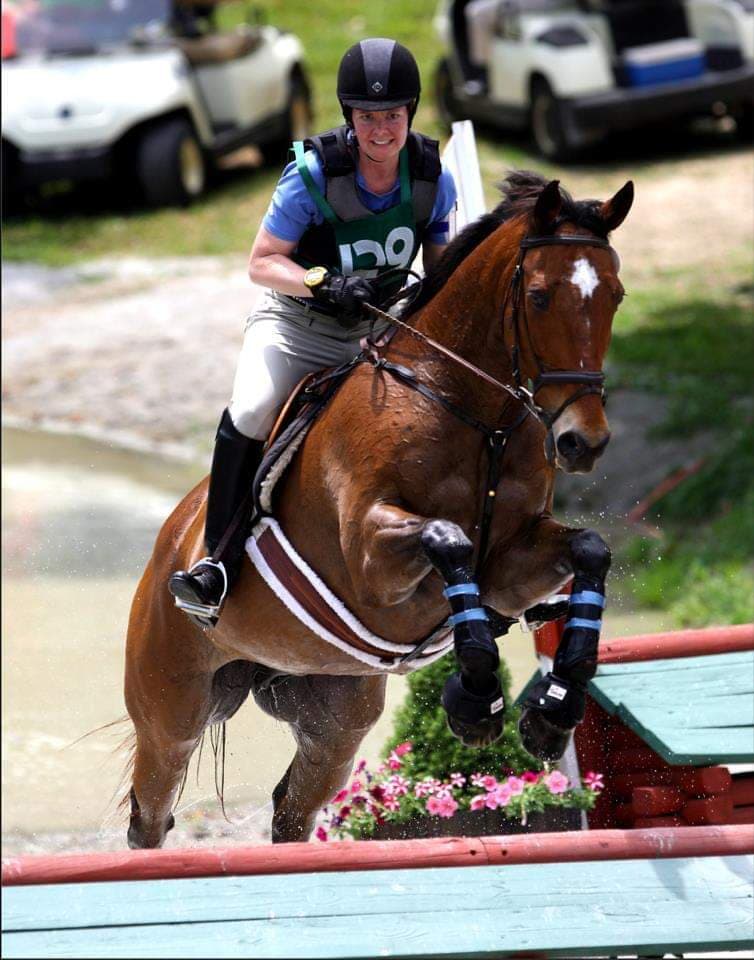 How are they kept in their retirement?
First I boarded them both at a retirement farm close to home called Providence Farm, an amazing facility run by my good friend Kathy Krantz.
In 2017 I decided I needed to step away from my corporate job and focus on my daughter, and needed to cut back on boarding costs (we also own a mare my daughter and I share for riding and showing).
I asked my folks about bringing the boys to their small farm where I had my first horses. They've been home under my daily care for a year now, and I see them more now because of it. There are a couple of other horses I kept through retirement buried there, and this will be Tucker and Gold Style's final resting place as well. I hate to think about that, but for now at 21 and 26 they are pasture sound and enjoying life bossing around ponies, a donkey, goats and chickens!
Matthias Schwarz/Elena Flyer & Sandy Shoes, San Juan Capistrano, Calif.
Elena Flyer is the proud caretaker of Sandy Shoes, her trainer Matthias Schwarz's retired eventer. Sandy Shoes is a 22-year-old Thoroughbred of royal breeding, by champion Theatrical (IRE) out of an Alydar mare. He raced twice but did not hit the board in either start.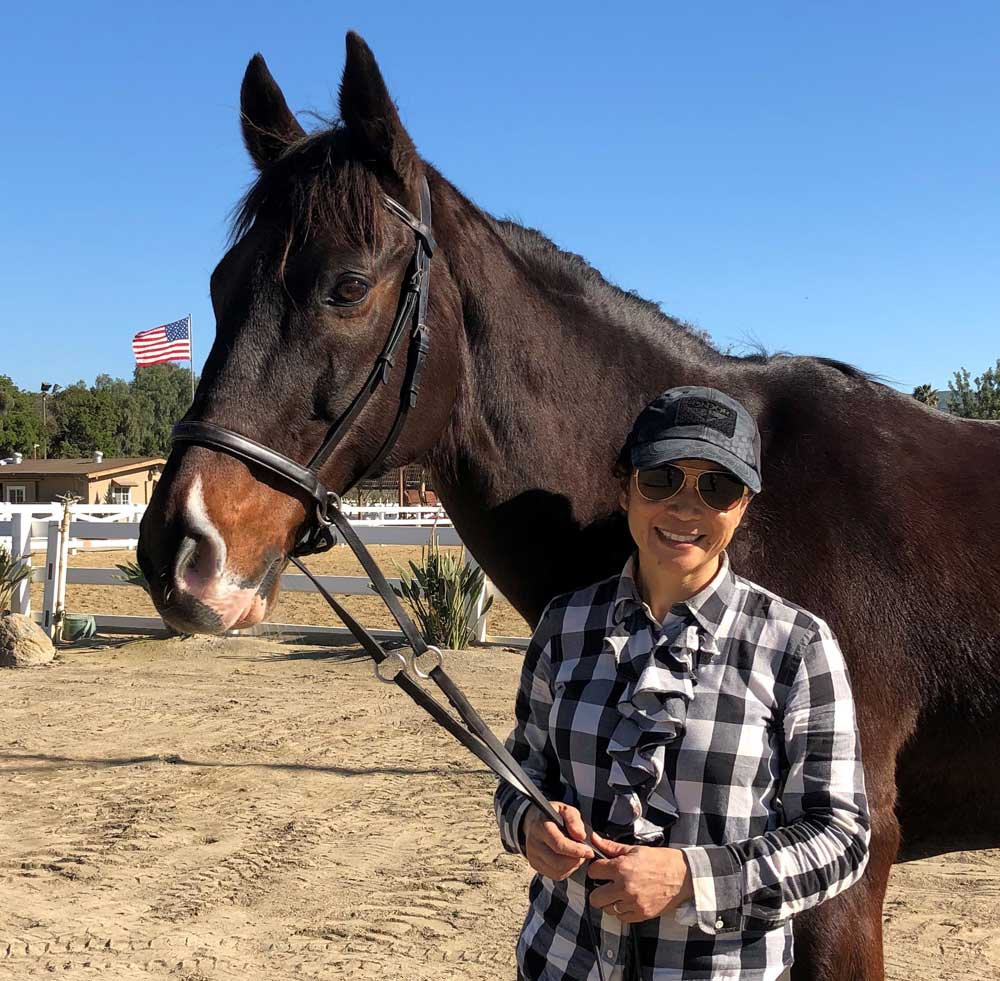 What did your horse do before he was retired?
"At the end of 2001, he was on his way to being slaughtered as a result from injuries he sustained while racing," says Matthias, who is originally from Germany. "A friend called me and said he had a horse that he rescued. He gave Sandy Shoes some time to recover out in pasture and thought he might be of interest to me. After checking him out, I brought him home to my barn and began a long process of rehabilitation and training." Matthias specializes in eventing and thought the horse might have what it takes to go far in the sport.
"In the years since, I have trained and competed Sandy Shoes in exactly 50 three-day events and horse trials from 2002 until 2014," says Matthias. Sandy Shoes excelled through the levels, going from Novice to FEI one-star within his first year.
"In 2005, he competed at the two-star level, and by 2007, he was competing at the FEI three-star Word Cup level of competition."
How is your horse kept in retirement?
In March 2014, Sandy Shoes retired from active competition sound and healthy. His final competition was an FEI two-star division at Galway Downs, where they took home a fourth-place ribbon.
Since then, Sandy Shoes has continued to enjoy life at Rancho Sierra Vista Equestrian Center in San Juan Capistrano with his caretaker Elena, who rides him in quadrille training and performances, dressage lessons and trail rides, as well as daily walks and grooming sessions.
"He gets lots of turn outs and loves to roll," says Elena. "He deserves to be spoiled. He has a really soft side to him now; he loves little kids. He reminds me a lot of Matthias. Very serious. Very focused. Hard working. Doesn't put up with nonsense. Yet he can be gentle and sweet when least expected!"
Karen Bjorn & Sully, Scottsdale, Ariz.
"It was the year 2000, and I finally felt that I was at a point in my life with a stable career where I could afford to buy a horse of my own," says Karen. "My trainer had some former clients who were selling a 9-year-old off-track Thoroughbred named Sully."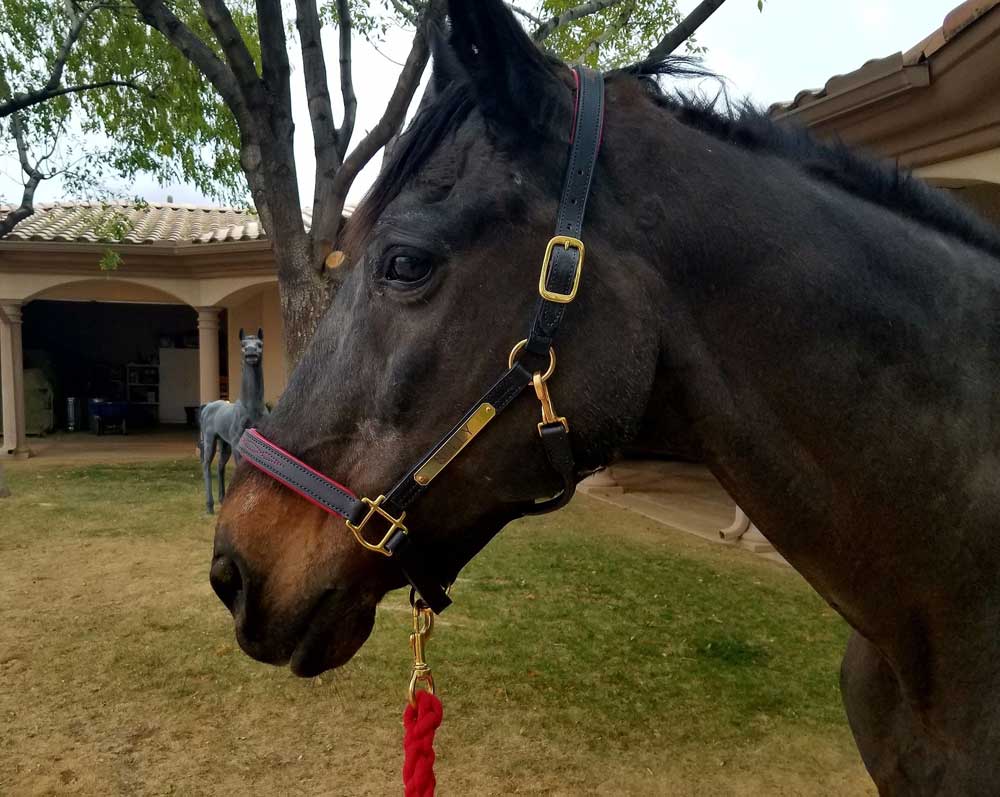 Sully had been retired from the track long enough to start some lower-level dressage training, and Karen planned to do some low-level eventing.
"I had some fear issues from an old riding injury," says Karen. "Sully had not jumped before, but with my trainer's guidance, we started him and he was bold and brave. He gave me the confidence to do much more than I originally intended."
"We evented at Training level [3'3"] for several years, and he was talented enough to go higher, but I was too much a weenie!" she says.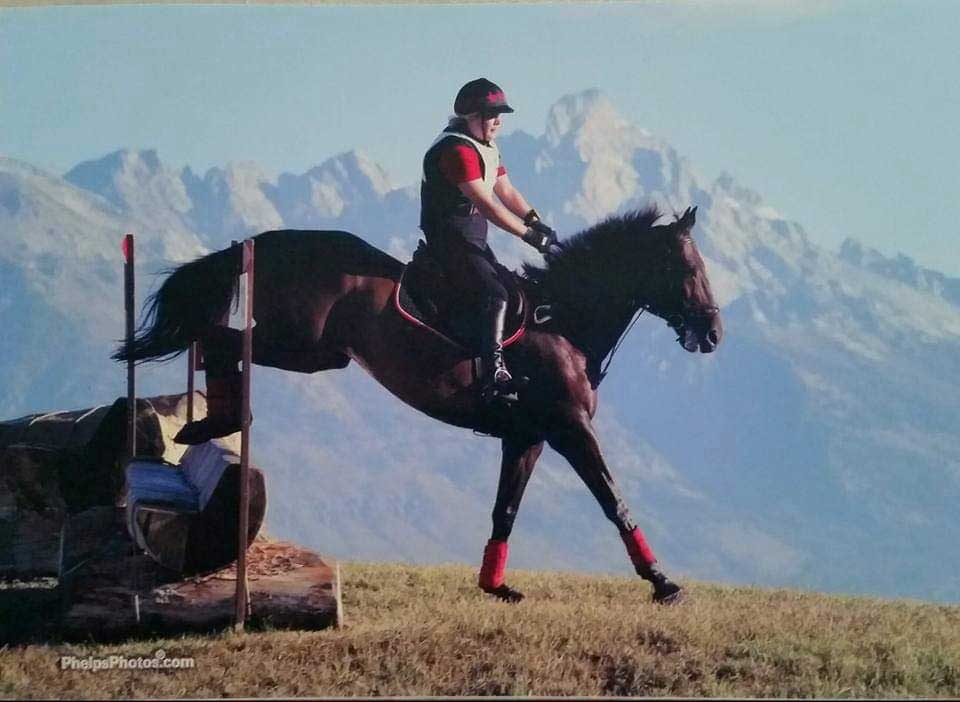 When did you retire him, and how did you know it was time?
When Sully was 19, he began refusing jumps for the first time in his life.
"I realized that he may have a little age-related arthritis, so we stopped jumping those heights," says Karen. "He loved having a job, so I kept riding and schooling for my own education. When he was 22, he developed Cushing's disease, but was still sound and rideable for the work that I wanted to do. Then he started to have trouble sweating, and the heat of the Phoenix summer was a little tough on him. By 26, and still sound, I decided he deserved a nice retirement.
"I found a small, private barn near my house where he has a stall with a large run, gets turnout for 12 hours with buddies, and the owners treat him like he is their own. It's not the cheapest retirement in the world, but it's the best situation for him. He's 28 now, and is king of the barn there! They all love him."