In the western show pen, a horse's look isn't complete without a neatly banded mane. Perfecting the art of banding takes a lot of practice, but getting it right will enhance your horse's appearance.
"The goal of banding is to organize the mane flat against the neck," says Patrick Lee, a professional bander based in Lexington, Ky. "When you band the mane, you want your bands to make a straight line. When you cut the mane, you have two [parallel] lines that work together to make the neck appear longer."
Lee recommends setting aside at least an hour at a time to practice banding your horse's mane at home, well ahead of your first show. Then practice as much as possible to improve your technique and help your horse get accustomed to the routine.
"I usually band horses in their stalls," says Lee. "Make sure they're standing comfortably, and they'll figure out pretty quickly that this is relaxing."
If you're starting with a full-length mane, you'll need to shorten it so it's easier to work with. Trim it down to about 4 or 5 inches in length, but err on the side of caution. You can always trim it more later, but you can't make it grow.
"The mane needs to be clean," says Lee. "In the winter, there's a lot of dead skin and hair in there, and in the summer the horse will sweat and there's salt. That can make the horse itchy, and that's one reason you want to have a really clean mane.
"Use a plain shampoo with no additives or conditioners," Lee continues. "You don't want the mane to be too slick, and those additives can attract and hold dirt."
You'll need a plastic stepstool or mounting block, a comb, a clip to hold the mane back, braiding spray or water in a spray bottle, and bands. Use bands that are close to the color of your horse's mane.
"Some people like the look of white bands in any color mane, and that's fine," says Lee. "But a line of white bands will show every single mistake, so you want to be very good before you think about using them. Any black mane, liver chestnut or even a dark sorrel will look better with black bands because their manes will have some black hairs. Brown bands tend to lighten up when you use them. I prefer to use PVC-based bands over rubber bands because they don't break as easily or change color as much."
---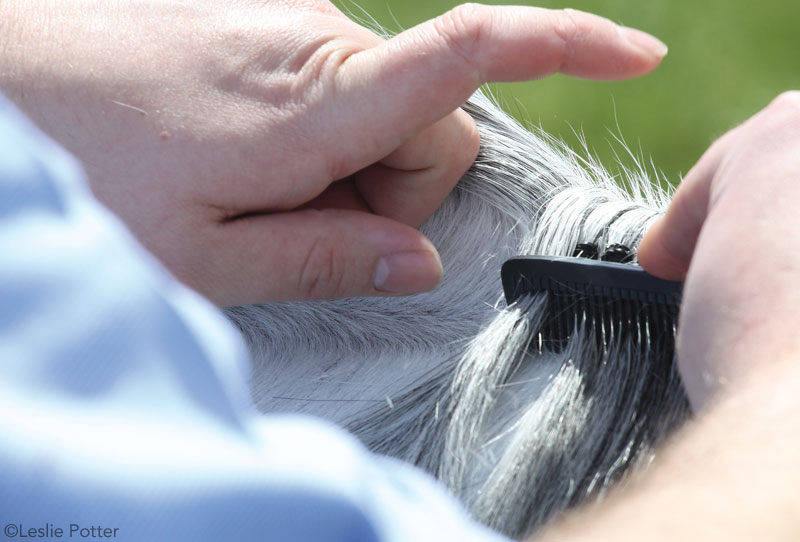 STEP 1: Separate the Hair
Use your comb to separate a section, being sure to create a crisp, straight line across the mane as you part the hair. Use a clip to hold back the rest of the mane that you aren't working with. Your goal is to have a consistent amount of hair in each band, not necessarily the same size section across the mane.
"Most horses' manes are medium to thick at the top quarter, thickest in the second quarter, and the last half is medium thickness," says Lee. "So you'll have differently sized sections as you go down the mane to get the same amount of hair in each band."
---

STEP 2: Wrap the Band
Hold the section of mane you're working with down and close to the horse's neck as you wrap the band. If you're starting at the top of the neck, make your band close to the base of the mane so that you'll be able to line the bands up in a straight line as you go down the arch of the neck. Make sure the band is tight enough to hold, but not too tight, as that can cause the hair to pucker so that the band won't lie flat. As you wrap the band, stack the wraps next to each other with no overlap to keep the band flat.
---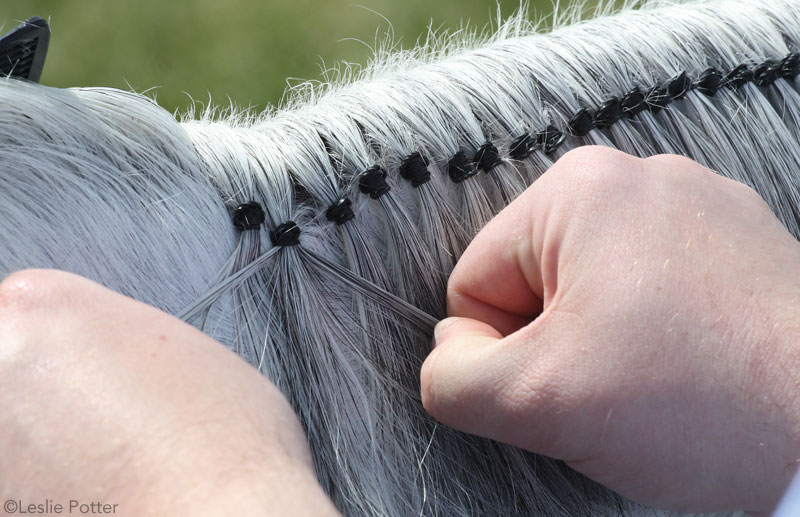 STEP 3: Tighten the Band
Once the band is in, take the hair from the bottom of the section, closest to the neck, and pull out on both sides to tighten the band up while keeping it flat against the neck. You can use this technique to straighten out any bands that appear out of line at the end.
---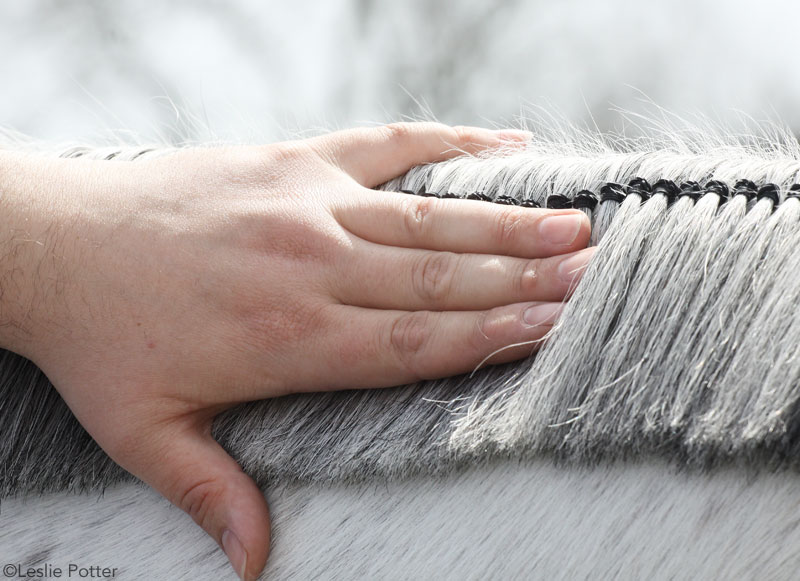 STEP 4: Trim the Mane
Once you've finished banding the mane, measure a width of three fingers or so from the line of bands. Cut straight across so that the bottom of your horse's mane is parallel to the line of bands. This will visually elongate your horse's neck.
If you prefer a more natural look, you can use thinning shears to make the end of the mane a bit less blunt.
---


STEP 5: The Forelock
If your horse has a thick forelock, you may want to band that as well, but Lee advises against banding the forelock ahead of time. "Because of where the forelock is situated, it moves in all directions," he says. "When you band it and put a slinky on, that section of hair will get mangled, so it's a better idea to wait to do it until right before you show."
Lee explains that some riders leave the forelock unbanded and use a bit of baby oil or face grease to tame it right before they go into the show pen. If you do want to band it, the triple band method is a popular technique that keeps the forelock neat and tidy.
Separate a small section at the top of the forelock and band it. Separate a middle section, then band it together with the top section. Then use your third band to wrap up the remaining loose forelock with the top sections.
The Finished Product
When you've completed your banding job, the mane should look neat and organized and lie flat against your horse's neck. Remember that it takes a lot of practice to get to that ideal.
Banding isn't difficult, says Lee, but you have to be willing to put in the effort to make it look good. "Do it every day at the show," he says. "Practice once or twice a week at home to develop a visual rhythm where each band looks the same. That's what you're aiming for."
Liked this article? Here are others on show grooming:
Grooming for Halter and Showmanship
Grooming Tips for a Show-Ring Shine
Special thanks to Sargent Quarter Horses in Paris, Ky., Patrick Lee, and equine model Winners RV owned by Kathy Trommer for their assistance with these photos.
---
This article originally appeared in the June 2014 issue of Horse Illustrated magazine. Click here to subscribe!