Horse shows are a fun way to get off the farm, hang out with friends and see how far your horse has progressed in his training, but you shouldn't have to sacrifice your entire bank account to compete. Whether it's keeping your horse at home to save money, bartering coaching costs or buying used show clothes, where there's a will, there's way to get in the ring.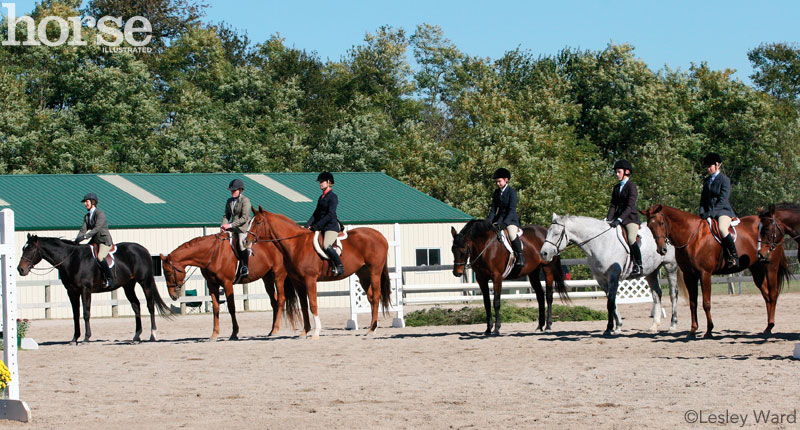 Affordable Horse Housing
While keeping your horse at home isn't an option for everyone, it can reduce horse ownership costs over the long run. Though it means additional work (and you can't just jaunt away for a week's vacation without lining up a competent farm sitter), you'll save on things like fuel used driving to and from a boarding barn every day. You may have to haul out for lessons—but you won't have to keep a horse in training at a boarding barn, which adds up fast!
Anna Curtin of Paris, Ky., likes keeping her show horse at home for another reason. Having to haul so often is actually a benefit, Anna says. It gives her horse lots of practice tacking up at the trailer, which comes in handy at shows. "I rarely stable at a local show because the stall and bedding can double my show costs, so having a well-behaved horse at the trailer makes my show days a lot less stressful," she explains.
Stay Local
Showing at United States Equestrian Federation (USEF)- or breed-recognized shows can be extremely expensive, but these aren't the only options for satisfying your competitive cravings. In most areas of the country there are unrated, local shows with reasonably priced entry fees.
Local shows also tend not to be as demanding on turnout of both horse and rider. At most local events, horses are not required to be braided or banded, and riders need not have pricey custom outfits or high-end tack. Typically, any clean and classic attire is suitable for showing at this level.
Lyndsey DeMoss, a teacher in Stowe, Ohio, owns an American Quarter Horse mare named Let's Go Kate, or "Casey." She shows in western pleasure, horsemanship, English equation and English pleasure, mostly at nearby open shows.
With events so close to home, DeMoss doesn't have to pay for stall fees for her horse; she can ship her back and forth if it's a multi-day event.
Curtin shows her horse PHF Pacifico in the adult jumper divisions. Since her main riding goal is to get better and move up in height, she doesn't have to haul to larger shows to get the feedback she needs. If there is a larger event she would like to attend during the show season, she'll carefully plan out her show schedule, ensuring she can save enough throughout the year to afford the larger competition and the costs that come with it.
Work Off Expenses
To save on coaching fees at horse shows, ask your trainer if she would be willing to barter part of the fee in exchange for feeding, bathing or grooming other horses at the show. Your ability to muck stalls or band or braid manes can also come in handy and save your trainer time. You could offer services completely unrelated to horse showing: updating websites, videoing sale horses or even babysitting could come in handy for busy equine professionals.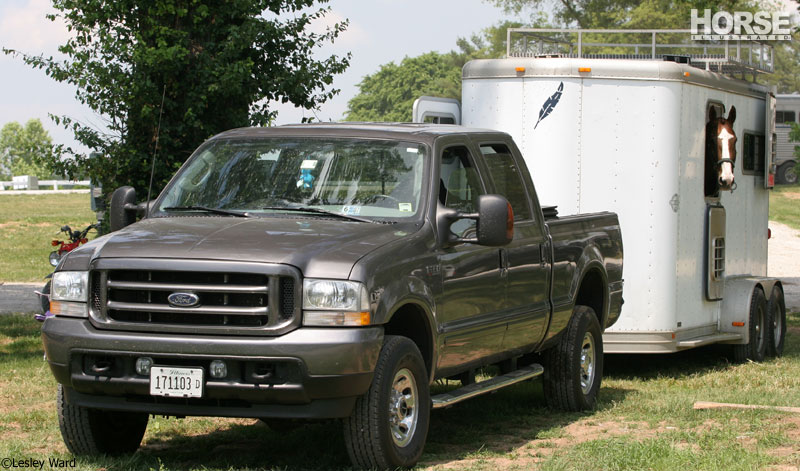 Trailer Pooling
If you're like many horse owners and a truck and trailer are out of your budget, fear not. Many rig owners are more than happy to fill an open spot on their trailer for a nominal fee.
DeMoss competes only her mare on show days, and is more than happy to pick up another horse to offset fuel costs. Additionally, Curtin notes that an extra set of hands at the show is always welcomed as you get ready for the ring.
BYO Horse Show Food
Packing a cooler of drinks and snacks (and of course carrots!) will save big bucks throughout the course of a horse show day or weekend; $3 bottles of water add up fast. Plus you'll eat healthier and avoid long lines at the concession stand.
Savvy Shopping
Though DeMoss has spent the better part of 20 years adding to her tack collection, there's always something new she would like to get her hands on. "I tend to purchase an inexpensive version of an item until I can replace it with something better at a later time," she explains.
She watches tack groups on Facebook for items being sold; she just bought a very nice tail extension for less than a fraction of what it would cost new. She also uses these same social media platforms to sell some of the old tack she's no longer using.
Curtin operates in the opposite way. When she has her heart set on a piece of new tack, she researches it carefully and then starts looking online instead of buying a newer, lower-quality piece of tack first. EBay is a favorite haunt, and she recently scored a beautiful French saddle custom-made for someone else's horse. "I'm riding in comfort for a fraction of the price of a new saddle," she says.
Clever Clothes Horse
Both ladies try to stock up on items when they're out of season and cheaper, including buying show clothes in the winter. While the style of the western clothes may be a year dated, they're fine for the open shows and local competition. DeMoss watches eBay for deals on show clothes, as well as Craigslist.
Horse showing is an attainable goal if you're willing to be creative. Thrifty horsekeeping, a strategic show schedule, searching online for deals on tack and clothing, and staying closer to home will all help you get in the ring so you can show off your skills.
SARAH E. COLEMAN is a freelance writer based in Kentucky. She competes her off-track Thoroughbred in the hunters.
---
This article originally appeared in the June 2015 issue of Horse Illustrated magazine. Click here to subscribe!