Want a day full of memories on horseback? Compete at a horse show! Whether your goal is to win a year-end high-point award or to simply have fun at local schooling shows, competing promises far more than a chance to win a blue ribbon. Ultimately, you'll discover just how well you and your horse work together as a team. To get the most out of your horse show experience, here are 10 things that you should know before you fill out your next entry form: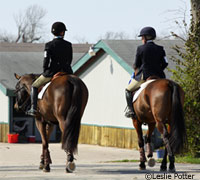 1.
Horse shows are expensive. Your checkbook will be tapped for more than just class fees at the entry booth. Typically there are parking fees or overnight stabling costs, as well as fees to cover an on-site EMT and any association dues. Plus, there's a certain amount of tack and apparel required for every competitive division, and there's only so much stuff you can borrow from sympathetic barn buddies. Therefore, even an experimental foray into showing can cost a small fortune. You may be forced to find creative ways to afford your competitive career. Bargain hunt at consignment shops, barter barn chores for lessons and trailering fees, and contract yourself out as a part-time groom. You may literally have to earn your blue ribbons.
2. Not all shows are created equal. Even if you're desperate to show, don't latch on to whatever flier happens to be posted on the bulletin board at your feed store. Do some research before making commitments with your time and money. This is especially important if you aren't familiar with the showgrounds; contact the show manager or secretary and ask pertinent questions. For example, if your horse is green, you'll probably want to know if there's adequate space to longe him before competition begins. And since you should always be concerned about unnecessary wear and tear on your horse's feet and legs, inquire about the footing in the warm-up and show arenas. During show season, there are plenty of opportunities to compete. Find the venue that's right for you.
3. The rules of the game are important. Just as with any other athletic competition, horse shows operate under strict guidelines, and it's your responsibility to know ahead of time what's expected of you and your horse. There are no do-overs at horse shows, which means you can be eliminated without warning for infractions such as non-traditional tack or crossing start and finish markers at the wrong time. Shows that are sanctioned or rated by an association adhere to that group's specific rulebook, and the horse show premium should include both a list of classes and an overview of those rules. When in doubt, however, refer to the American Quarter Horse Association (AQHA) or United States Equestrian Federation (USEF) rulebooks, whichever applies; both are available online. The majority of shows—and judges—generally follow the protocols outlined in these two rulebooks.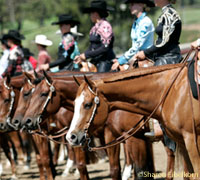 4. Appearance and turnout matter. It's not necessary for you and your horse to be decked out in the latest or most expensive horse show fashions. Yet you are competing in a horse show, and the word "show" deserves some emphasis. You've volunteered to present the skills that you and your horse have learned to both the judge and the spectators. Essentially, you are performing on a stage—albeit a dusty, oval-shaped one—so look the part. Your horse should be well-groomed, sound and in impeccable condition. Your clothing should be crisp, clean and fit well. Anything less is disrespectful to the judge and the tradition of competition. Sloppy apparel, dirty boots and a poorly groomed horse convey the impression that you aren't really serious about competing.
5. Never underestimate the benefits of a trainer or instructor. A horse show mom (or dad) makes a great cheerleader, and a barn buddy who will buff your boots comes in handy. But rarely do either compare to the services of a professional trainer or instructor. If you ride hunters or jumpers, they'll serve double duty as jump crew and traffic cop while you navigate through crowds to get to your practice jumps. They'll also help put the final touches on your position and your horse's skills before each class. Perhaps most importantly, however, a professional at ringside can critique your performance, give you insightful feedback and offer tips for improvement. That way, you won't go into your next class and commit the same errors. It's important to realize that even world-class riders have a coach who helps them prepare for each competition. Don't you deserve the same support?
6. Every competitor feels a little nervous. For some riders, that queasy feeling in the stomach is related to fear of failure. After all, no one wants to be humiliated in public. For other riders, their nervousness is due to a fear of being physically injured if their horse refuses a jump or blows up in a class. The best cures for both types of nerves are competing aboard a trustworthy horse and being adequately prepared for competition. If every horse show finds you gulping Pepto Bismol or dreading the warm-up arena like dental surgery, then you need to examine why the experience is so threatening. Horse shows are definitely filled with moments of adversity, but they should also be fun.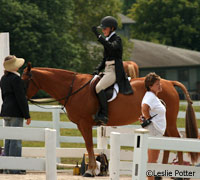 7. Enter only the classes that suit you and your horse. Undertaking a new challenge in a horse show environment is rarely a good idea. For example, if you've only been jumping cross-rails and low verticals at home, don't enter a 3-foot hunter class just because the jumps don't seem too intimidating. Once you enter the arena and start on course, your opinion may change. You might be suddenly unsure of how to handle the situation or feel overfaced. That can add up to an unsuccessful performance that damages your confidence and creates training issues you'll have to address at home. For these reasons, enter classes that showcase what you and your horse already know.
8. You need to be a good manager of time. Horse shows operate on their own schedule, based on the ebb and flow of competitors for each class. While one class might take mere minutes to complete, another one might threaten to drag on until sundown. Therefore, get in sync with the announcer and the person manning the back gate as soon as possible. Ask them for updates throughout the day so you have a good idea of when your classes will take place. Then, plan accordingly: Allow yourself enough time to get dressed, tack up and become mentally focused. Even though you may feel as if you spend half the day sitting around bored and the other half in a state of frenzy, at least you won't miss your class because you were munching on a bag of Cheetos at the concession stand.
9. Judges deserve your respect, even if you don't always agree with them. Horse show judges have a tough job. Each time they hand in the class placings, a few people will be thrilled and many others will be disappointed. But be assured that judges form their opinions based on years of knowledge and experience. Although they empathize with the struggles competitors face, their job is to award ribbons according to merit. So while you might feel that you rode perfectly, other competitors may have performed even better. You might also want some feedback to help you improve, but the judge is not a clinician. He or she is not there to give you a three-minute lesson. In fact, the standard rule at shows is that the judge cannot be consulted unless you first gain permission from the show manager or steward. Besides, can you imagine how long a show would last if every competitor got to interrogate the judge afterward?
10. Quite often, things don't go as planned. Maybe the unpredictability factor is what keeps horse shows interesting. Even if you've practiced a dressage test or a horsemanship pattern for weeks, your mind can suddenly go blank. Perhaps your teenaged gelding steps out of the trailer, takes one look around the showgrounds and reverts back to his days on the racetrack. Or maybe your promising greenie suffers a mental meltdown and spooks at the jumps. Instead of surrendering to frustration, maintain your composure. Come up with an alternative plan, such as entering fewer or less-demanding classes. Rearrange your schedule so you have time to longe your rambunctious horse. Lower your expectations. Trot the jumps in your hunter class so your greenie remains calm and focused. Aim to have a positive experience, even if you have to settle for small moments of success rather than armfuls of blue ribbons. Console yourself with the knowledge that there's always another show.
Further Reading
Horse Show Essentials
Horse Show Checklist and Stall Card
Rating the Competition
During her lengthy show career on the hunter/jumper circuit, Cindy Hale won more than 20 medals for hunt-seat equitation. She currently serves as a judge at local and regional open horse shows.
---
This article originally appeared in the June 2010 issue of Horse Illustrated. Click here to subscribe.