Trends in the hunter and jumper rings can take decades to change, which is great news for riders who want to stay current on a limited budget. Currently, color is one trend sweeping the show arenas, as are light, technical fabrics seen in everything from show shirts and coats to breeches.
Expert panel
We asked three experts from the merchandising and judging worlds for their input on what's in and what's out for hunters, jumpers and dressage riders this year.
William Sparks, a Registered ("R") judge with the United States Equestrian Federation (USEF). He judges hunter, jumper and hunter seat equitation all over the United States and Canada.
Chris Corn, director of merchandising at SmartPak Equine. SmartPak has revolutionized the way horse enthusiasts feed their horses, and has since branched out into their own line of clothing and horse gear.
Patricia Nesto, divisional merchandising manager of Dover Saddlery. In addition to working for Dover, Patricia competes her own horse, Raconteur.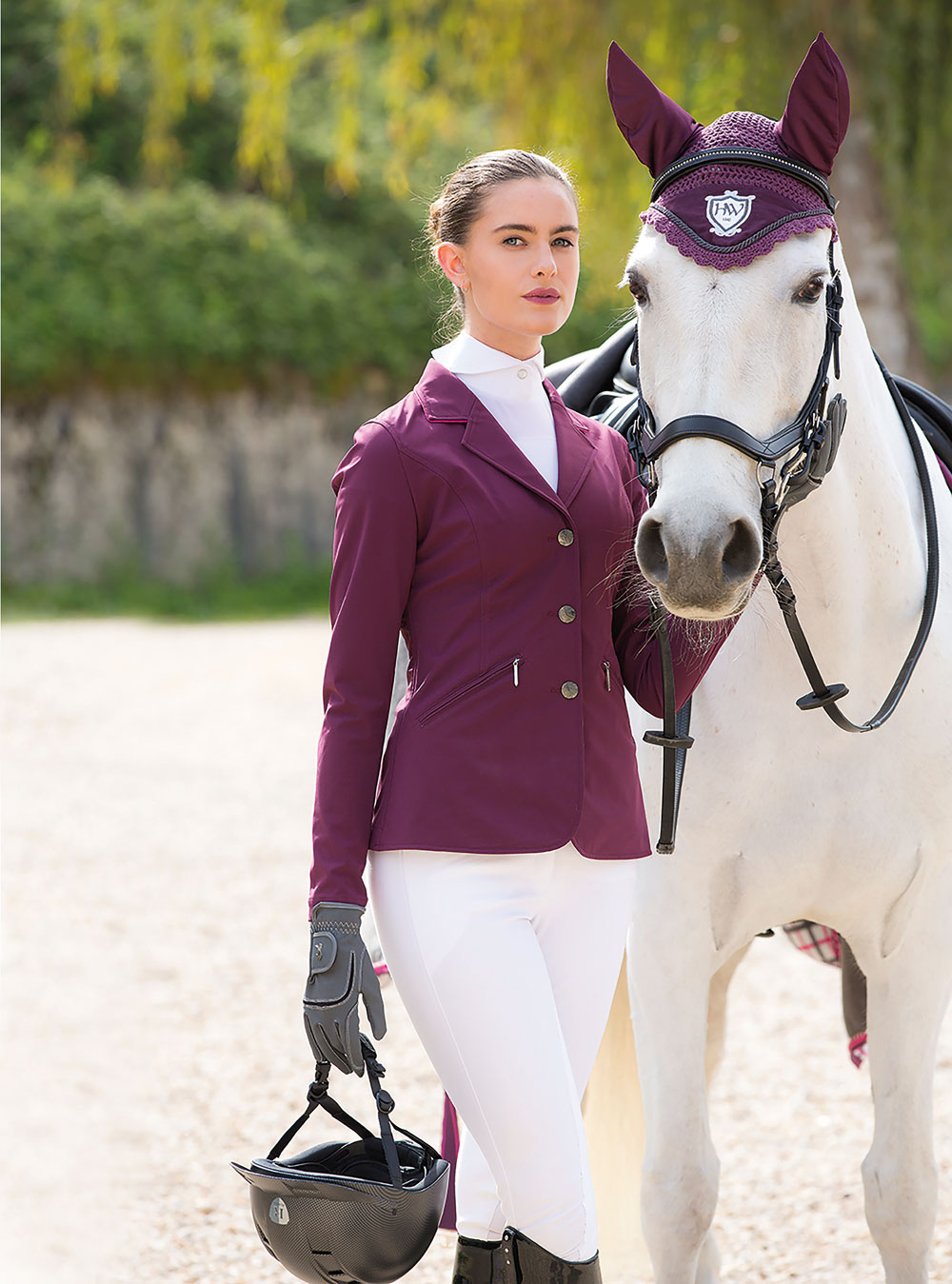 In the jumper ring, the European trend of a wider variety of coat colors has made its way to the U.S. Photo: Horseware Ireland Competition Jacket in Berry
Jumper Ring
Jumper riders have the most freedom of expression in what they wear in the show ring, notes Chris Corn, director of merchandising at SmartPak Equine.
Show coats seem to have taken on the most significant color change, and most are now made of four-way stretch with a European flair.
Show ring trends have a tendency to follow European riding fashion in both the jumper and dressage rings.
"This includes coats in an assortment of colors not previously seen in the U.S.," says Corn. While some of the wild colors may never be accepted in the rings here in the States, riders are branching out.
Interchangeable collars allow for a fun touch of personalit in the jumper ring but can be traded out for a more traditional color in teh hunter ring. Photo: Tredstep Solo Pro Competition Coat
Hunter Ring
The hunter ring still trends toward traditional navy coats. "However, riders are venturing into the ring in shades of green, gray and varying degrees of blue—albeit darker blues—as well as black," notes Corn.
When it comes to breeches, it's all about a lighter shade of beige. Euroseat breeches with silicone grip are also making their way into this ring.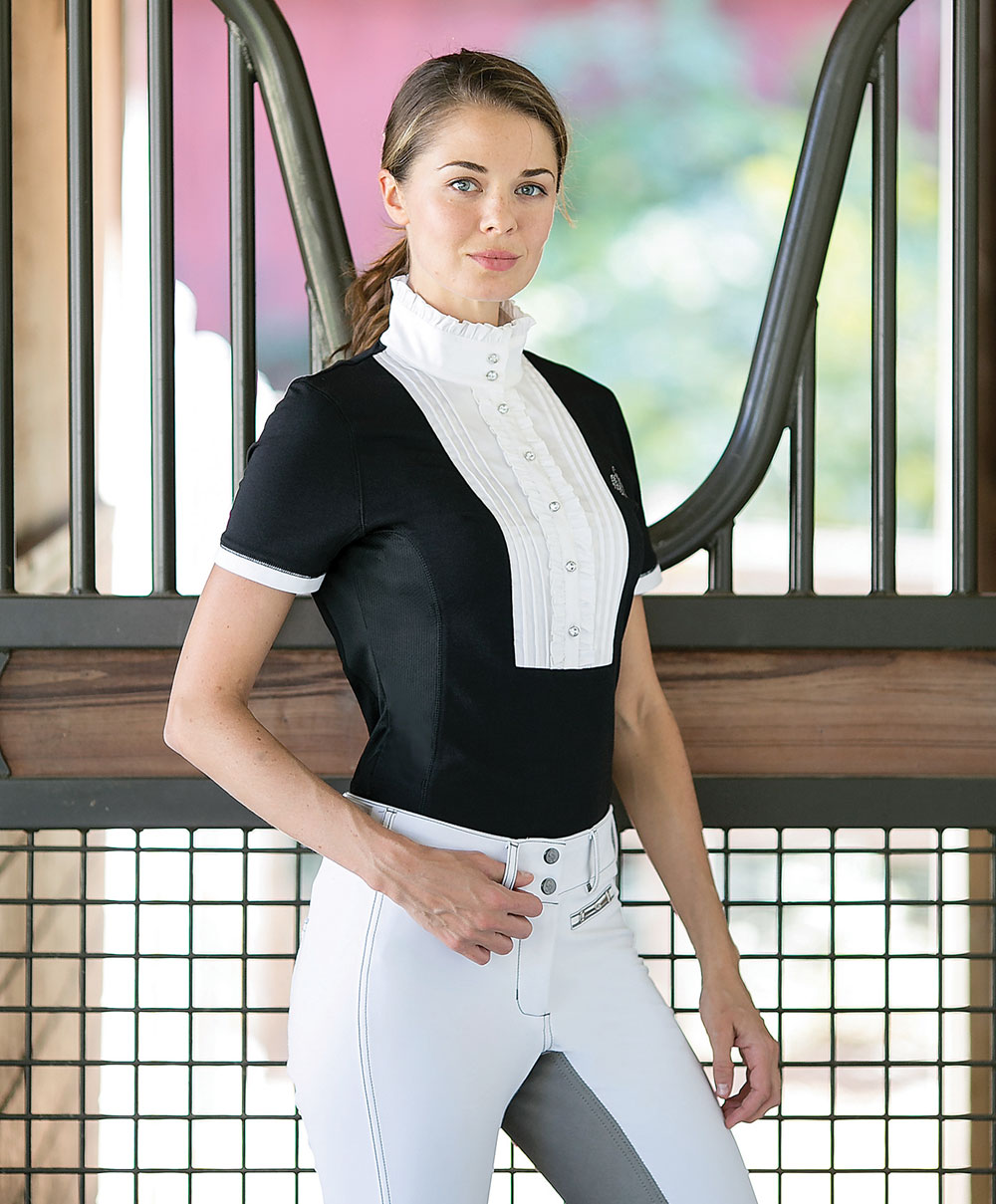 Built-in stock ties look neat and correct under your coat in dressage; ruffles add extra elegance. Photo: Goode Rider Noble Show Shirt
Dressage Ring
While bling may be fading fast in the jumper arena, it has really picked up steam in the dressage ring. Between the blinged-out browbands and trim on show coats, helmets and boots, it doesn't seem to be leaving anytime soon, says Corn.
Classic Attire in Any Ring
There are certain classic show ring pieces that will never go out of style, emphasizes Dover Saddlery's Patricia Nesto. These are a great place to start if you're on a budget.
By purchasing well-fitted pieces in traditional colors, such as a white shirt, a navy or black show coat and light tan breeches, you'll be the most versatile. "These will be acceptable in every ring and at every horse show you go to," says Nesto.
Many of the details that were once only available at higher-end price points (think technical fabrics and wrap-collar shirts) are now available in all price points, allowing riders to be trendy on a budget.
Still, both Nesto and USEF judge William Sparks note that fit is key: If a jacket doesn't fit well, it won't look good, no matter how much it costs.
Stretch fabric and white contrast stitching make this Pikeur Sarissa II coat on-trend for dressage or jumpers.
Coat Trends
No matter which ring you ride in, technical fabrics are here to stay, with a focus on comfort and fit at the forefront of manufacturer's minds. Here are some of the other trends taking over in coats.
Technical fabrics: Coats no longer need to be made from traditional wool.
Not as short: A boon for most body types, the super-short coats have faded to the background, says Sparks.
No more buttoning: Zip or snap closures have taken over, usually with decorative buttons over the zipper.
Pocket and collar details: These allow riders to bring their own personal touch to the ring without overwhelming the judge.
Interchangeable collars: These allow a rider to have a more traditional jacket for the hunters and a trendier option for the jumpers, says Nesto.
Reversible buttons: Details like these can make a coat stand out. Use the black or navy side for hunters and the silver side for jumpers or dressage.
Three- or four-button closures: Four-button closures are especially good for riders who are taller or who have longer torsos, notes Nesto.
Manufacturers are heeding riders' requests for long-sleeved UV or SPF protection in both schooling and show shirts, keeping the sun off exposed skin as much as possible. While wearing long sleeves can seem counterintuitive, mesh panels and moisture-wicking fabrics are making long sleeves comfortable in the summer.
Additionally, manufacturers are designing shirts with the athlete in mind, notes Nesto. The new designs move with a rider's body.
Based in Lexington, Ky., Sarah E. Coleman has a soft spot for chestnuts with chrome, including her off-track Thoroughbred, Chisholm. They compete in the hunters.
This article originally appeared in the June 2016 issue of Horse Illustrated magazine. Click here to subscribe!