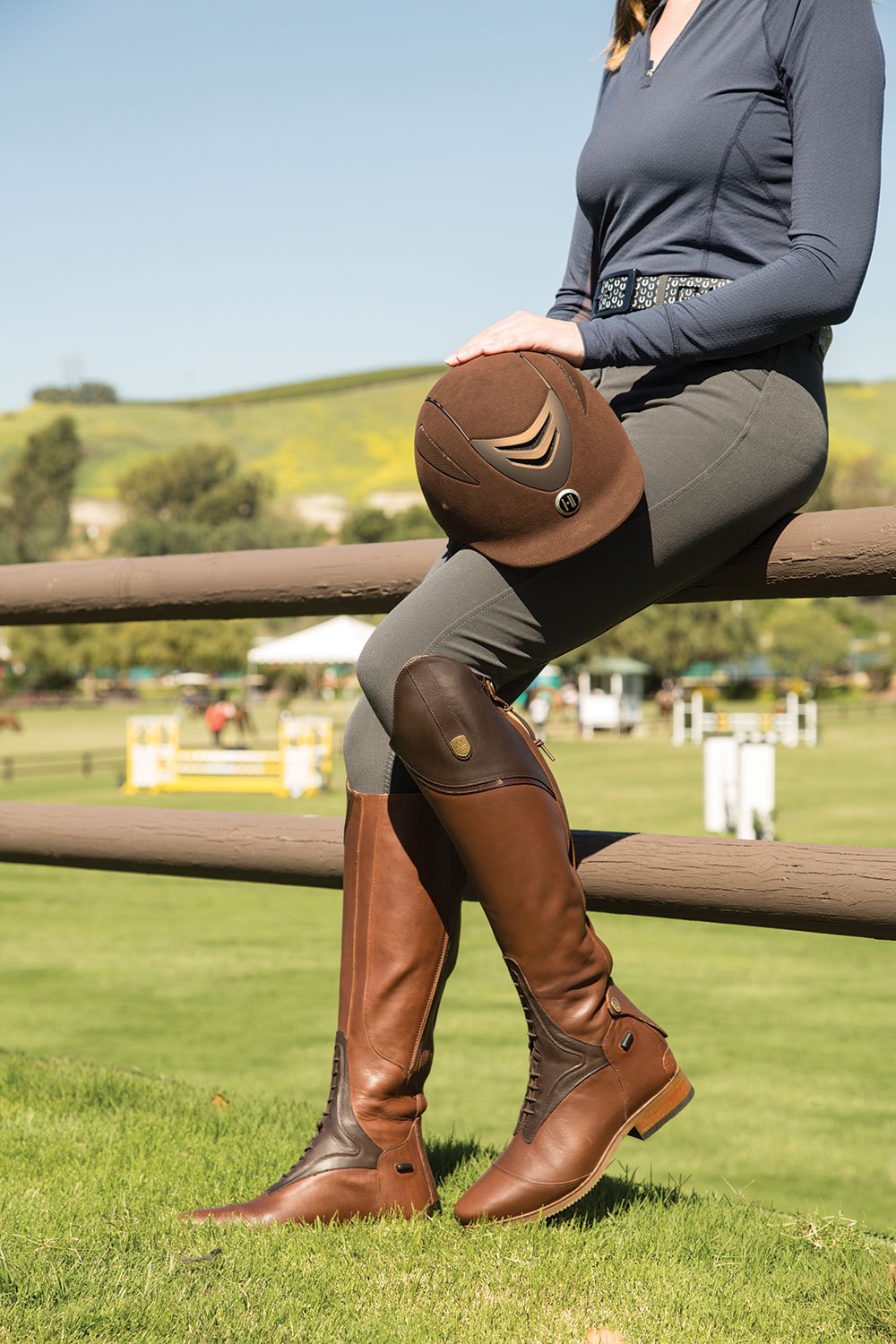 Mountain Horse Sovereign Field Boot
Buying quality boots is a significant investment. Fit and comfort are two of the most important aspects of buying the best boot for you. Here, we'll show you how to measure for the right boot size and break your boots in with as little discomfort as possible.
Measuring for English Tall Boots
Measuring yourself properly is the key to perfectly fitted tall boots. Having another person measure your legs will help you get the most-accurate dimensions. Here's how to ensure a snug fit:
Wear the clothing you will ride in (breeches and socks/nylons) with your tall boots when you are measuring.
Sit in a chair with your legs at a 90 degree angle and feet flat on the floor. Have someone use a cloth measuring tape to gauge the width of your calf at its widest part.
Measure the height from the floor to the back of your knee. Add 1 to 2 inches to the height to allow for boots to drop.
Check the boot sizing chart for the brand of boot you wish to buy to see if there are any additional adjustments you should make when ordering your boots. Many manufacturers offer wide, regular, and narrow calf sizes in addition to standard, tall, and short boot heights to help boots achieve a custom fit (at less-than-custom pricing).
Keep in mind that not all boots need to be broken in. Dressage boots, for example, are not supposed to soften at all; they're compared to stove pipes for a reason! If they break in at all, it will be minimally at the ankle. Field boots, however, can be expected to drop 1 to 2 inches once they're completely broken in.
The Perfect Fit
Tall boots that fit properly will be tough to zip up when you first get them—don't panic! The boots may be fairly uncomfortable and tight around the top. They will come all the way up to the back of your knee, making walking fairly difficult in the beginning.
The boot, once broken in, will drop, and the leather will wrinkle around your ankle. This is why an inch or two are added to the height measurement—to ensure that when broken in, the boot will come up high enough on your leg.
Western Boot Woes
Western boots also can have an uncomfortable break-in period. Here are some tips to help minimize the pain.
Heat it up: If you own a steamer for your clothes, this handy tool can also be used to help stretch too-tight boots. If you don't own a steamer, a boiling pot of water will do the trick. Hold them over the boiling water until the leather gets pliable, but do not get them wet. Moist heat won't damage leather, so steam the boots, put them on, and walk around in the boots until they're no longer warm.
Boot stretchers are your friend! Stretchers are forms that slip inside a boot and are adjusted to stretch the length of the foot (stretchers won't help if your boots are too tight across the top of your foot).
Boot stretch spray isn't just for English boots—it can benefit western boots, too. Used inside the boot, you won't get a whole boot size, but you will get additional wiggle room over the top and sides of your foot.
If you still can't get a fit you're happy with, consider bringing the boots to a cobbler for a more professional stretch.
Noble Outfitters All-Around Square Toe Aztec Boots
Variety in Western Styles
The fit of western boots vary in size by brand, which can make finding the perfect fit a bit tricky. Here are some tips to getting good boot fit if you're a harder-to-buy for foot shape.
There's no need to go a size up if you prefer pointed toes; no matter the toe shape, boots are designed with a footbed that runs true to size.
The style of the cowboy boot should match the shape of your foot. The squarer toes are most comfortable and fit most foot shapes well.
If you have a broad foot, sticking with boots that begin to taper closer to the toes will make chafing less of an issue.
If you have wide feet, buying a boot that is specifically made for such a shape (EE) is a necessity.
Don't worry if you have large calves; some boots come in a wide-calf option. A "V" shape in the front of the boot will offer more room, but be aware that if you have skinny ankles and you buy a wider-calf boot, you may need to wear thicker socks to have the boot fit snugly.
Another option for wider calves is to get a boot with a shorter shaft that ends closer to your ankle (the shaft is the part that goes up the leg).
Tips for Breaking in English Tall Boots
Breaking in tall boots can be a pain—literally. The backs of rider's knees and ankles are especially susceptible to blisters and abrasions until the leather drops, conforming to the leg.
Before riding in your boots, wear them around the house for a few hours each day (or as long as you can stand) to begin the break-in process.
Stand on the edge of the stairs, facing up, and drop your heels over the edge of a stair tread. This heels-down stretch will begin breaking in the boots at the ankle.
Apply copious amounts of leather conditioner to the ankle area where the boot needs to drop. You can also apply it to the top of the boot where it sits behind your knee, but be careful not to stain your breeches.
Place boot trees in your boots whenever you are not wearing them to help them retain their shape and stretch them just a bit.
Apply a boot stretch spray to the ankles of your boots.
Ride your bike in your boots! While you might look funny, riding a bike is similar to the motion of riding your horse, without the fear of getting bucked off while you're leg isn't tight.
Consider bringing your boots to a cobbler to have them professionally stretched if you still can't feel your toes after trying these tips.
Treating and Preventing Blisters
If you do get blisters from your boots during the breaking-in process, there are a few products you can try besides the standard Band-Aid. These include moleskin and heel risers, both of which can be easily found at drugstores.
Wrapping your legs in Vetrap also works, and can cover a wider area. If your blisters are primarily on your ankles, try wearing an ankle sock under your other socks. The added padding might be just what you need to tide you over until your boots fully break in.
---
Based in Lexington, Ky., SARAH COLEMAN has a soft spot for chestnuts with chrome, including her off-track Thoroughbred, Chisholm, whom she is teaching to be a hunter.