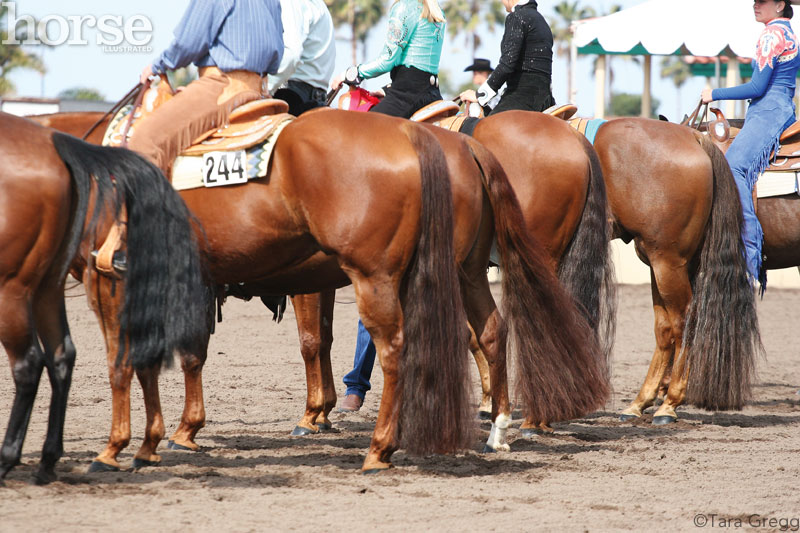 Everyone wants a gorgeous tail in the show-ring. Once you get to the bigger stock-breed shows, tail extensions are common. Check with your association's rules, however, before you spring for a tail extension. Arabians and Morgans, for example, must be shown with natural tails. Also consider that on some show circuits, like in local and 4-H competitions, a tail extension can look out of place.
"Back in the '80s and '90s, we weren't allowed to use false tails, so we did everything we could to get tails to grow," says Lynn Salvatori Palm, whose Fox Grove Farm is located in Ocala, Fla. A longtime clinician with a successful competition record, Palm has won nearly three dozen world and reserve world championships. The 2007 American Quarter Horse Association (AQHA) Horsewoman of the Year, Palm has a record four AQHA Superhorse wins and is also an AQHA judge. "Now, in the stock horse world [Quarter Horses and Paints], using tail extensions is the trend. It's gotten to where just about everyone is doing it. In most western classes, the trend is for big, thick tails."
"Thirty years ago we shortened tails to the hock; now we want them down to the fetlock, and bigger is better," says Barb Delf, owner of Custom Tails of Blue Grass, Iowa. In business since 1999, the company custom-manufactures tail extensions.
To be sure the extension you order matches your horse's natural tail, Delf recommends standing about 10 feet from your horse and matching the color you see. The outer tail hair will "veil" the extension when it's attached.
Expect to pay anywhere from about $85 to $500, depending on the color and weight of the extension. The most common colors (black, sorrel and chestnut) are less expensive than colors like gray, flaxen or white. Certain horses, such as Paints, have bi-color or tri-color tails, which require extensions with a mix of colors. You can specify either a blunt or natural-tapered end.
"Tennessee Walking Horses and Saddlebreds have been using tail extensions for much longer than the stock horse industry," says Delf. "In these breeds, they want the tail dragging on the ground, so the extensions can be as long as 8 to 10 feet."
Weighted Tails
"The 'big tail' look is popular in the stock horse industry, and you see more and more people going with weighted tails," says Delf. "The trend now is for the horse to carry the tail flat against the rump, and the weighted tails achieve that. The tail extension itself weighs from 1/2 to 2 pounds. The weight system can add anywhere from another 4 ounces to 1 pound."
Weighted tails were made legal for AQHA shows in 2012. Tail extensions and weighted tails can be used in any class except versatility ranch horse and ranch horse pleasure.
Some companies, such as Custom Tails, have interchangeable weight systems, allowing you to use none, some or all of the weights, which come in 4-ounce increments. This is convenient because it lets you customize the weight and use the extension on more than one horse.
Delf notes that the preferred weight of the extension varies according to discipline. For example, heavy tails are typically used for western pleasure and hunt seat classes, while lighter tails are used for reiners, cutters, jumpers and barrel horses.
"Riders in English disciplines realize the value of having a balanced look and are definitely using extensions, although you see them more on hunters than jumpers," says Delf. "They normally use a lighter extension (usually 1/2 to 3/4 pounds) than stock horse owners."
Directions for Use
There are several ways to attach an extension to a horse's tail. Delf finds the most popular extensions for ease of use are those with a braided horsehair loop or braided ties. The AQHA rule, as of 1997, states, "Tails may be lengthened by hair-to-hair attachment only, with no attachments of any kind to the tail bone."
For best results, follow the directions carefully. Where you position the extension will determine how long it hangs. You can braid it in anywhere from the lower third of the tail bone to all the way at the end of the bone.
If the extension is braided in below the tail bone, you will get more of a pendulum effect," says Delf. "When it's braided higher on the tail bone, the bone acts as a brake [so the tail won't swing as much]."
What about those obviously false tails at shows that get caught between the horses' back legs?
Delf explains that this can happen when a rider uses too thick of an extension for the horse. In that case, a lighter one may solve the problem. If the extension and/or the actual tail are dirty or tangled, the hair may get caught. Static electricity or rough chestnuts on the inner legs may also be to blame. Make sure chestnuts are smooth, and spray a silicone-based grooming product inside the horse's hind legs.
Tail extensions are intended for competition use only. Braid them in the morning of your show or event, and take them out once you're done for the day. Leaving the extension in overnight is a big no-no. It could get caught on something or stepped on when your horse has been lying down and gets up. Either scenario can cause damage to the extension and/or your horse's tail.
Since extensions are made of 100 percent real horse hair, you care for them just as you would your horse's tail.
"A clean, free-flowing tail will give you the prettiest look, so I suggest washing the extension after every day of showing," says Delf.
Let the tail extension air dry thoroughly before storing it in a protective hanging bag made specifically for this use. Look for one with a zipper guard to prevent hairs from getting caught and damaging the extension.
Liked this article? Here's more on grooming for the show pen:
Video: Western Show Grooming
Banding Your Horse's Mane
No-Fail Tail Care
CYNTHIA McFARLAND is an Ocala, Florida-based freelance writer and horse owner. The author of eight books, her latest is Cow-Horse Confidence: A Time-Honored Approach to Stockmanship, co-authored with Martin Black.
---
This article originally appeared in the June 2014 issue of Horse Illustrated magazine. Click here to subscribe!