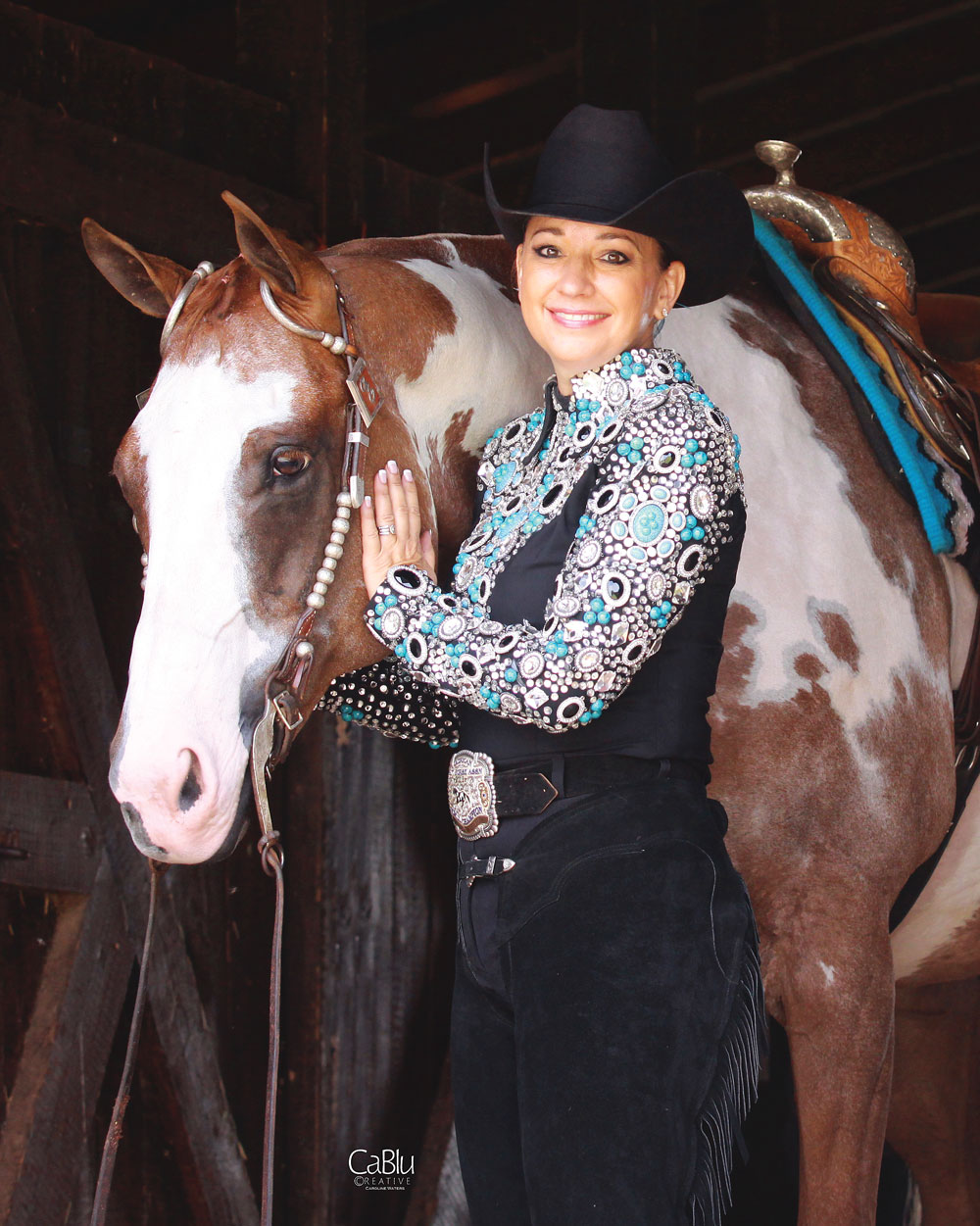 Horsemanship tops today showcase crystals only on collars, shoulders, yoking and arms rather than on the bodice. Photo courtesy CaBlu

Competing with your horse in front of the judges requires a delicate balance between fitting in and standing out. You want to look appropriate, but have a little extra eye-catching spark that complements your horse so you both will look your best together.
Whether you're getting ready to hit the local open show or gearing up for national competition, we asked experts in all-around events to share their opinions in this handy guide.
Expert Panel
Rachele Scobie owns Scobie Performance Horses in Paso Robles, Calif. Her clients compete in American Paint Horse Association competition.
Jacque Ray owns Jacque's Apparel, a custom horse show clothing company based in Weatherford, Texas.
Tammy Dyer of Pilot Point, Texas, owns D Designs, a custom show clothing company.
Carly Veldman Parks is the coach of the University of Georgia's Women's Western Discipline Equestrian Team. She is an APHA world champion.
Trends vary for specific disciplines. Here's a list of how to change up your look for each class if you compete in all-around.
Western Pleasure
Subdued fringe
Longer jackets for showmanship pull double duty
Bolero vests with collared shirt underneath
Jackets (for bigger shows)
Showmanship
Tailored suits
Slightly longer jackets
Matching top and bottom colors
Jackets with all-over design and embellishment
Western Riding
Functional designs for easier movement
Similar trends to trail
Showcase rider's personality with added embellishments or design details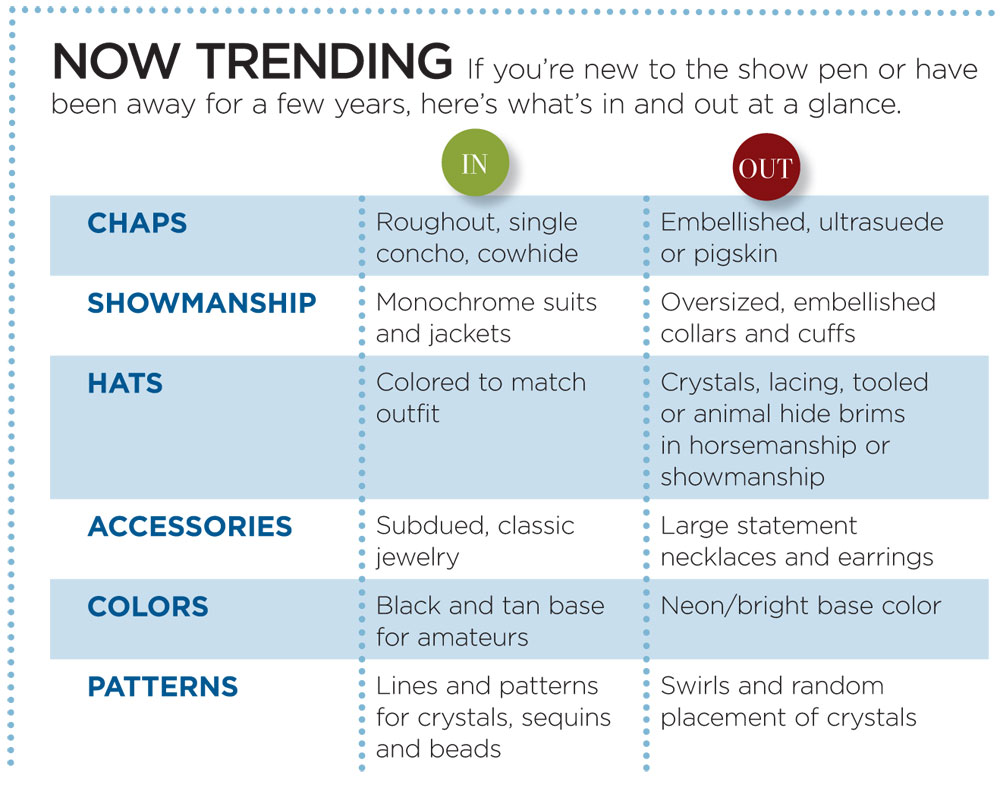 Button-Down Shirts
In a sea of outfits covered in crystals, one trend stands out. The fitted button-down shirt is extremely popular for horsemanship (outside of World Show competition). Whether you choose to leave your shirt plain or embellish it along the shoulder, collar and cuffs, the perfect fit is crucial to making this look work.
"The button-down shirt trend started with the collegiate equestrian teams," says Scobie. "It's very tailored, very classy. It's not about what you're wearing, but how you're riding. It puts everyone on an even playing field."
Scobie says many riders choose bargain-brand shirts and have them tailored to fit. Be sure to button the shirt all the way up, and if you wear a scarf for horsemanship, it must be carefully tied to minimize billowing ends. You can pair a tailored button-down with a vest for western pleasure, trail or western riding.
Ray suggests adding a removable panty attachment to make the shirt into a bodysuit for the best fit. "You can use Velcro and change it from one shirt to another," she says.
Veldman recommends adding shoulder pads for a smooth look in the saddle, especially for horsemanship.
A tailored button-down shirt with or without embellishment is a great option for many riders. Photo courtesy Larry Williams.

Vests
In lieu of heavy, embellished jackets, some riders are finding ease both in the saddle and in their wallets by wearing vests. Very popular for western pleasure, trail and western riding in warmer climates, vests have been updated with square necklines and embellishments that coordinate between the shirt underneath and the vest. You can change up your look simply by changing out your shirt.
Monochrome Color
Though it might seem to be a throwback to a bygone era, colored hats are a hot look right now. However, they must match your outfit colors exactly. When done right, a monochrome outfit from hat to boots can offer a clean look, especially for showmanship and horsemanship.
Style on a Budget
There are affordable ways to update your look; the key is impeccable tailoring and pristine presentation.
Choose a button-down shirt for horsemanship, and pair with a vest with a pattern, slight shine or DIY-crystals for western pleasure, trail or western riding.
A monochrome suit presents a professional look to the judge.
You can often wear the same jacket for western pleasure and showmanship. A horsemanship shirt tucked in becomes a trail top if you leave it untucked. Be sure it lies smoothly over your chaps.
Abigail Boatwright is a freelance writer and photographer based in Texas.
---
This article originally appeared in the June 2016 issue of Horse Illustrated magazine. Click here to subscribe!