Though it may not seem as altruistic as volunteering to teach children with disabilities to ride or to help an abused horse learn to trust again, there's no doubt that volunteering at horse shows is meaningful to horse show organizers and attendees.
Volunteering at horse shows isn't just a self-service to watch some nice horses and riders go around. The vast majority of horse shows, specifically unsanctioned, local shows, are run by nonprofits, such as local 4-H clubs or equine charities. Most of these organizations host horse shows as fundraisers and to raise awareness of their mission.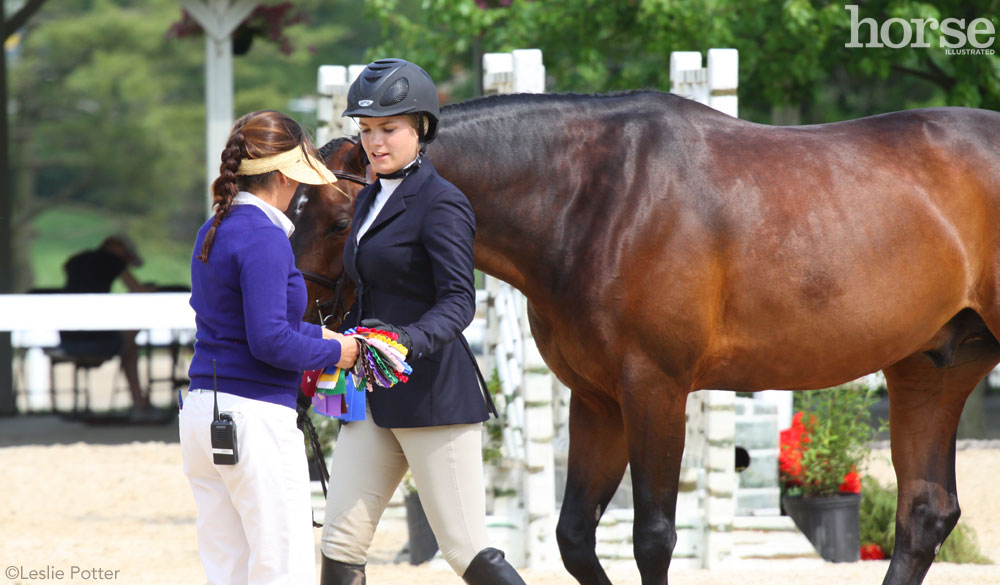 Getting to Know You
Volunteering at a horse show is a wonderful way to meet like-minded people. If you're new to an area or new to the horse world, volunteering at a show is a great way to get a read on the horsey heartbeat of your town.
While horse shows are usually busy affairs, there's typically at least some down time between classes or during lunch or ring-drag breaks to get to learn more about those who are volunteering with you. And let's be honest–there's no quicker way to bond with someone that standing in the pouring rain or roasting sun for a few hours!
Interested in running your own horse show? Here's how to run an equine event >>
By volunteering, you will also get a sneak peek at how trainers act, both with their horses and their clients. You'll get to see how trainers handle not only stellar trips in the ring, but also the not-so-spectacular moments, as well.
In the end, this insider knowledge might solidify your choice for an instructor or make you think twice before investing the money into lessons or training with someone. Spending a few hours of your time volunteering at a horse show could potentially save you a lot of heartbreak down the road.
Daily Duties
Most horse shows require the same basic positions to make the day run smoothly. These include:
Secretary stand/show office: This position involves helping the show secretary by collecting fees, answering questions and organizing entries, among other things.
Runner: This person brings judge's cards from the judge(s)to the announcer.
Announcer: The announcer calls the class in to the ring, reads the class commands, and announces the placings of each class.
Awards: This person is typically responsible for handing out ribbons and may also involve tallying high point awards.
Ring crew: These volunteers set up jumps when they fall down and move them in height for different classes. They may also set out cones or other obstacles for classes like showmanship and trail.
Concessions: If the host organization is also providing the concessions, they may need help serving food or at the cash registers.
In gate: This person is in charge of opening and closing the gate as well as getting riders into the ring in a timely fashion so the judge is not waiting with an empty ring.
Steward: For unrated shows, this person does not need to be a steward by sanctioning standards, but this person is typically one who is in charge making sure riders and horses are safe, both in the warm-up area and in the show ring. At dressage shows, the "steward" usually refers to the person who checks riders in at the warm-up ring and makes sure they get to the competition ring on time and in order.
Floaters: These people are usually on standby until a situation arises in which they are needed. Most floaters have worked at horse shows before and are able to jump in and help where needed.
Be Prepared
Helping the host organization further its mission will make you feel warm and fuzzy inside. But there are some things to keep in mind when you volunteer to keep the good vibes going.
Dress for the weather. Horse shows go on rain or shine, so be sure to check the weather in the morning to ensure you dress for whatever weather is headed your way.
Bring snacks and water. While most shows will try to take care of their volunteers, sometimes the shows get so busy they are unable to check on your for a few hours. Be prepared for this by packing snacks and water in a bag you carry with you.
Wear closed-toe shoes and ask if you need anything else for your role at the show (like gloves for jump crew).
Bring sunblock and bug spray, just in case.
Ask if you will need a chair and offer to bring your own.
Make sure you know if there are any other details you need to be aware of to fulfill your duties at the show and make sure you understand them.
And the Real Bottom Line
The vast majority of equine industry events could not operate without the help of people who give their time and talent to see an event to fruition. Many equine events, including horse shows, are run by organizations that operate on a skeleton crew, whether because they are a nonprofit entity or because they are run by an independent contractor with minimal staff.
Volunteering at events such as these not only will make you feel good about yourself, you will fulfill a vital role in helping the show run smoothly and keeping your local equestrian scene going strong.
When not partaking in horse shows herself, Sarah Coleman loves to volunteer at horse shows and hunter paces throughout Kentucky.