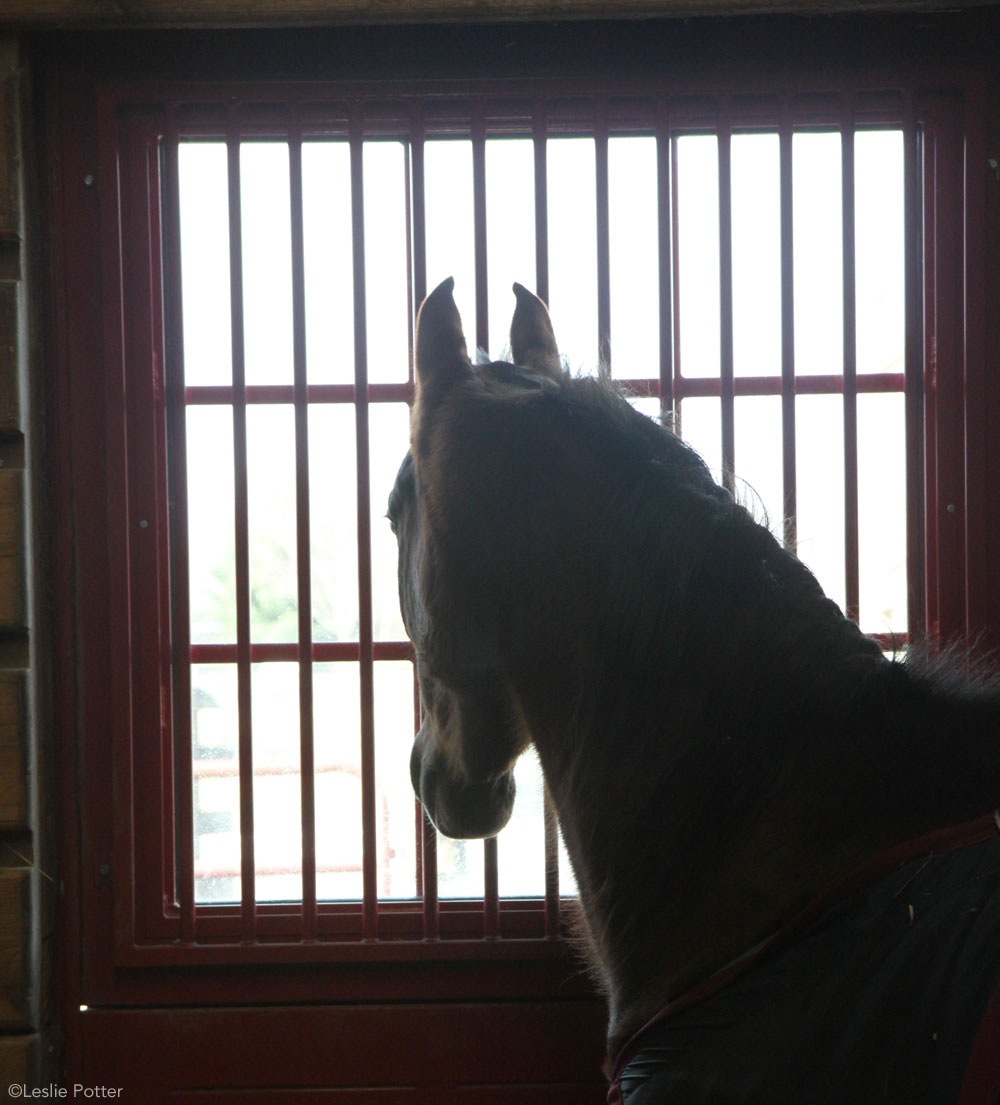 It's a wonderful feeling to know that you're doing the best you can for your horse. When you consider how this creature generously gives both body and heart to bring you happiness, it's obvious that he deserves the finest care you can comfortably afford to provide in return. If it's within your means, this may mean providing a box stall deeply bedded in fresh straw or shavings and nightly blanketing. You sleep peacefully at night knowing that unlike the unfortunate horses you see braving the elements in fields and paddocks, your horse is properly cared for in a home almost as cozy as your own.
It might come as a surprise, however, to know that your horse's idea of a perfect living arrangement may differ radically from your own. In fact, your ideal may be creating stress and causing vices and health problems for your equine friend.
The Great Outdoors

As herbivores, horses are designed to graze for food several hours a day. In one study, horses in natural settings spent an astonishing 70 percent of their time grazing. Grazing activities give positive purpose to a horse's daily routine. Additionally, as members of a species with a strong social structure, most horses enjoy living in the company of other compatible horses. Stall confinement and lack of equine social contact can result in such behavior problems as wood chewing, cribbing or stall weaving that stem from excess energy, social deprivation or sheer boredom.
While you may be concerned about whether your horse can comfortably contend with increased exposure to the elements, horses are equipped by nature with physical adaptations to cope with environmental variations. In addition to water-resistant coats that thicken or shed with the seasons, they also possess specialized vascular systems within their hooves that maintain adequate temperatures and circulatory patterns under a wide variety of external conditions, like while traveling through snow. Most healthy horses should be able to handle moderate seasonal fluctuations in the environment while living outdoors, provided that an adequate run-in shelter is available.
Studies indicate that horses exhibit fewer behavioral problems when living closer to their natural state, outdoors with other horses. In fact, the more restrictive life of "luxury" that many horses lead has been shown to result in various deviant behavior patterns. It's been demonstrated that confinement and isolation do increase aggression. You only have to walk down a trainer's breezeway at the local racetrack or show barn to see the effect that being cooped up has on the attitudes of horses brimming over with energy.

Have you ever noticed the number of horses that will pin their ears and posture aggressively as you walk quietly past them in their tiny box stalls? That's no coincidence.
The Social Structure
In 1991, Michael Mal and his colleagues published a study in the journal Applied Animal Behaviour Science, in which 36 mares were assigned to live in either group pastures, confinement stalls that still permitted contact with other horses or in isolation with no contact permitted with other horses. Observations on their exercise habits, feeding behaviors and resting habits were recorded. Dr. Mal discovered that the pastured mares spent the most time resting and grazing, while the isolated mares spent the most time trotting around, traveling farther than the other groups. The isolated mares also spent the least time standing and resting. The mares that were confined to stalls but had contact with other horses were not as restless as the isolated mares, but were definitely more active and tended to engage in a wider variety of activities than did the pastured mares. The results of this study supported the research of others who have indicated that over-management of horses is often a source of stress for them.
These findings were enhanced by a later study of the social and environmental preferences of a group of 10 Standardbred, Thoroughbred and Quarter Horse mares. The horses were housed either as two horses living together, as one horse living separately but with other horses in the adjoining pen, or as one horse living alone and without neighbors. They determined that the solitary horses living without neighbors walked and trotted more often — at the expense of feeding time — than did either of the other groups. It was also noted that the solitary horses with neighbors spent 50 percent of their time in visual or physical contact with the other horses.
Bad Habits
There's little doubt that stall confinement and inadequate exercise can trigger many of the behavioral problems in horses, which are known as vices. The Veterinarian's Encyclopedia of Animal Behavior reports cribbing, biting and holding on to stall walls and mangers, and wood chewing often originate due to lack of exercise and environmental stimuli. It also states that behavioral problems, such as stall pacing, in which horses walk or trot around their stalls in a fixed pattern, and stall weaving, in which they rhythmically shift their weight from one foreleg to the other, are adaptive patterns that confined animals develop in an effort to expend excess energy and to overcome the lack of environmental stimuli. In the book Domestic Animal Behavior for Veterinarians and Animal Scientists, by Dr. Katherine Houpt, the author states that the best treatment for stall walking or weaving is to keep the animal with other horses on pasture with a run-in for shelter. She also offers that other vices, such as stall kicking and pawing, sometimes develop as forms of self-stimulation for confined animals (in addition to other reasons). The litany of problems related to confined housing and insufficient exercise levels is quite compelling.
With this in mind, however, there are still several negatives related to maintaining horses on pasture, particularly when they are housed with other horses. Physical injury can occur simply from frolicking about in the pasture or as a result of traumatic episodes with other horses. But when weighing these concerns, it's important to consider that some of the behaviors stall-confined horses engage in can be physically damaging as well. The physical risks of pasture life can be minimized by acquainting the horse with the boundaries of obstacles within the pasture while being led by a handler, as well as making certain that each new horse and his pasture mates are compatible.
Horses
by Peter Pearson on flickr/
CC BY-SA 2.0
Also, the dominance hierarchy, or pecking order, of horses living together can translate into variations in the food, water and shelter resources available to each horse; typically the highest ranked horses get rounder and stay drier while the underdogs get leaner. However, if this becomes problematic, separate feeding areas for each horse can be established.
There is one behavioral problem that tends to show up more frequently in pastured horses than those isolated or confined, which I call codependency. Pastured horses quite simply do not want to be separated from each other, for ridden work or for any other reason. This can be a real danger if either the working horse or the horse left behind in the pasture starts behaving desperately. If this becomes a problem with your horse, you may need to work with a trainer to overcome this situation.
Hopefully, horse owners will consider this information from all angles and will make informed decisions about what's best for their own horses. After carefully studying the pros and cons of stall confinement versus pasture living for horses, I expect that many owners will conclude that the benefit most horses gain from living closer to nature in the company of other horses usually exceeds the risks that can be associated with it, although certain horses will prove to be exceptions.
If we endeavor to be keenly observant of the behavior of every horse entrusted to our care, and strive to provide the living situation that each individual horse seems to need, the comfort and happiness of our horses will be the best reward.
Further Reading
The Best of Outdoor Living