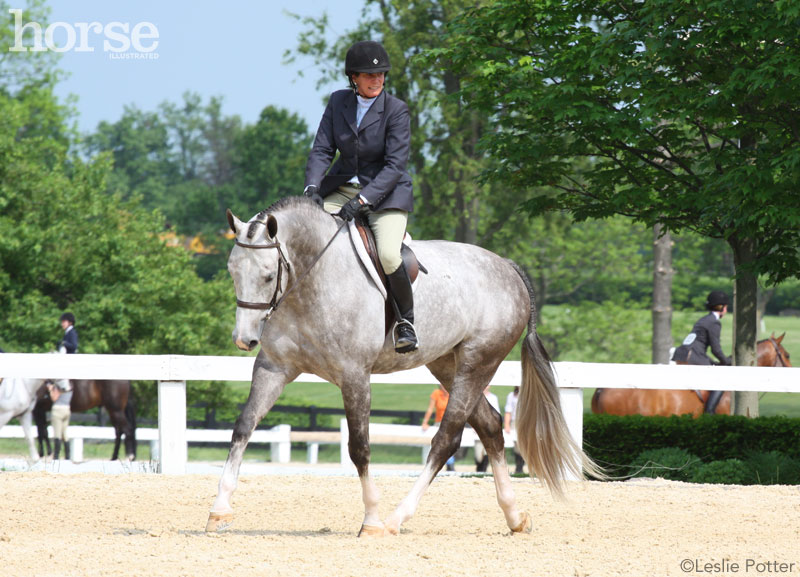 Adult amateur hunter rider Sara Healey had always dreamed of owning a dapple gray hunter like Aspercel in the Disney movie, "The Horse in the Gray Flannel Suit." But when she finally got the chance to make that dream come true, the self-described "30-something mom" didn't have the budget to buy a finished horse. So she bought a much greener version and figured that, with training and time, he'd mature into a star. That has yet to happen.
"Even with weekly lessons, things aren't progressing as fast as I thought they would," she says. "Just when I thought we were about to get to the show-ring, we started having issues with lead changes. It's extremely frustrating."
Like many adult amateur riders, Sara Healey took a gamble on a green horse. And as she is discovering, merely being enthusiastic isn't always enough. Owning a green hunter or jumper is full of grand moments of accomplishment interspersed with periods of despair.
The decision to go green is one that must be thoroughly considered. Diane Carney and Cathy Simm, two distinguished hunter-jumper professionals, have some suggestions to help ensure success. Carney trains out of her Telluride Farm in Chicago. She has hosted an annual George Morris clinic for 20 years and serves on a U.S. Hunter Jumper Association committee. Simm is a United States Equestrian Federation judge and shows hunters for her clients on the West Coast. Each has mentored numerous adult amateurs as they select, ride and show their green horses.
Find the Right Trainer
Carney believes amateurs should begin their search for a green horse with a trainer they trust and respect who can act as a sales consultant and mentor. Then, trainer and amateur can work with the horse as a team.
"That way, the adult amateur has a supervised program where horse and rider can work through their problems or issues. But it needs to be done in a supportive environment," she says. "That's why a good relationship with a professional is so important."
Another consideration is the trainer's teaching style. Does she micromanage every step of the green horse's education, so the adult amateur rarely gets to ride her horse, or does she act primarily as an instructor?
"Please, let me put the basics on your green horse first." Simm says. A solid foundation, where the green horse fully understands his job, makes the transition to the adult amateur easier. "After that, I personally like to keep the rider on her horse as much as possible," Simm continues, "because that's the person who ultimately will be riding the most." Lesson structure is also important. "I don't think amateur riders and green horses work well in group lessons," Simm adds. "There's just not enough individual attention."
Select the Right Horse
A green horse's spectacular movement, popular pedigree or outstanding jumping style can be captivating, but the adult amateur needs to consider more important, though less glamorous, attributes.
"The horse has to have the right temperament for an amateur," Carney says. She explains that some horses are simply "professional rides" due to their keen or sensitive temperament. An amateur rider, on the other hand, "needs a horse that's more forgiving, quieter, by nature."
The horse's size and conformation in relation to the rider's stature is also significant, according to Carney. Most petite or small-boned women find it difficult to control a large, rambunctious young sport horse. An adult amateur who perhaps spent years riding a "made" horse that was 17 hands and a huge mover will naturally desire those qualities in a green horse. "However, while she might have been fine riding a more schooled, sophisticated horse of that size, the same horse in a green horse package is literally too much horse," says Carney.
Like human students, green horses progress at their own rate. Some are quick learners, while others lag behind the learning curve and simply require more time.
"That's why, in a perfect world, it'd be great if amateurs could have access to a glorified school horse," Simm says, "or if they could hang on to their old horse for a while until their green one is further along. Then they would have a horse to ride that can keep up their confidence and allow them to continue showing while we [trainers] keep working on the green horse."
Have the Right Perspective
In the real world, money matters. Few adult amateurs have the budget to buya finished hunter or jumper that can immediately carry them to a year-end championship. The alternative is to buy a green horse, whose affordable price is due to a lack of training. But should a lower price be the prime incentive for going green? Carney doesn't think so.
"If an amateur comes to me and says she wants to buy a green horse because she wants the experience of increasing her horsemanship skills and to learn about the process, then I think that's admirable," she says. "But if the only reason she wants a green horse is because of her tight budget, then I don't think it's a good idea." The key factor, Carney explains, shouldn't be money, but time. "The main issue always seems to be that we need to have more time to work with the green horse."
That lack of time, or a rush to get the green horse into the show-ring, is what ruins many promising hunters or jumpers. A young horse pushed to perform becomes resentful, anxious or apprehensive about his job.
Though it's hard to sit on the sidelines with a green horse and fantasize about eventually showing, that's the perspective an adult amateur needs to have.
No trainer can honestly predict how long it will take to turn a green horse into a reliable show horse. Being patient while continuing to pay monthly training, lesson, farrier and vet fees can try the soul of any amateur, but future success in the saddle can be attained with the right mindset and the right horse.
Are You up to the Challenge?
Gambling on a green horse is not for everyone. How do amateur riders know if they're up for the challenge?
"A lot depends on the temperament of the amateur," offers Simm. "Do they get frustrated easily? Do they want to be in the show-ring next year? If so, then I'd probably suggest they look instead for an older, more seasoned horse they can show now."
Carney adds that another challenge of owning a green horse is realizing that, regardless of how successful you might have been on a previous horse, a green horse is a whole other animal.
"The questions asked on a green horse will be more advanced, more difficult than the same questions on a sophisticated, schooled horse," she says.
For that reason, Carney also emphasizes that adult amateurs must ride well before they take on a greenie.
"They've got to be able to use their leg, seat and hands properly," she explains. She then adds that to ensure they can stay in the tack on a rambunctious youngster, they should be able to pass a particular test. "I think they should be able to jump a course without their irons," she says. Experience riding someone else's greenie is also good assurance to determine if a rider will be up to the challenge.
Further Reading
Baby Green Blues
---
This article originally appeared in the March 2008 issue of Horse Illustrated magazine. Click here to subscribe!