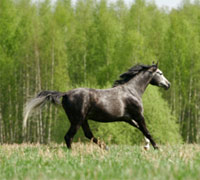 In horsemen's parlance, a green horse is one that is just learning be ridden or driven. A horse is sometimes referred to as "green broke" if he has had a rider on his back, but not much beyond that. The use of the word to describe inexperience or immaturity likely originates with the green color of many fruits before they've reached ripeness.
Green horses are often affectionately referred to as "greenies" or "green beans" or any number of variations thereof. Some shows offer "Green as Grass" classes for horses with limited show-ring experience. The term can extend to equestrians where green rider classes are available for riders making their competition debut.
Here are some HorseChannel.com articles that provide more information on the joys and challenges of owning green horses.
Baby Green Blues
Avoid performance pitfalls with your young sporthorse. Top pros reveal their secrets.
Read more >>

Is it Always Good to Go Green?
Green horses can be a gamble if you aren't prepared.
Read more >>

Horsemanship How-to: Keep Your Green Show Horse Calm and Focused
Prepare your green horse for a successful show-ring debut.
Read more >>

Green Horse Rules to Live By
Ten tips for owning or riding a green horse.
Read more >>

Getting Your Leads on a Greenie
Teaching a green horse his leads isn't easy. Here are some tips to help.
Read more >>

Forever Green
If you've competed much, you've surely seen the evergreen horse.
Read more >>

Video: Taking a Green Horse on the Trail with Jonathan Field
Trainer Jonathan Field helps a rider work with her high-energy horse to become more relaxed on the trail.
Read more >>