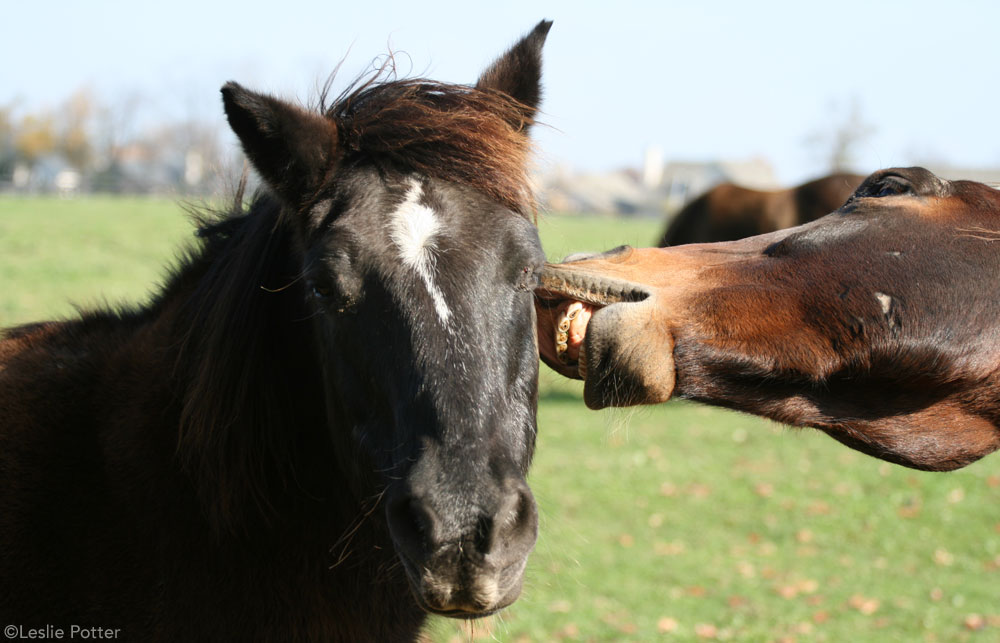 Q: Knowing my horses and which is more dominant, should I feed in a specific order at feeding time and turn them out in a certain order?
A: The pecking order of your herd matters, and it's helpful to observe the order and note any changes. While it's great info to know, it shouldn't dictate everything you do.
I watch the hierarchy in my herd to see if those at the bottom of the pecking order need help. Those horses may need to be separated for the night to have a rest from a dominant or bully horse, or at feeding time to make sure that they have access to food.
Plus, if you see a change in the pecking order, it may indicate a change in health. If a horse that is usually alpha is suddenly lower in the order, it may mean he has a health issue and needs attention.
With my own herd of horses, I want to make sure that as soon as I step into the pen, they see me as the leader. The pecking order should change as soon as I step in because I am the one they should be paying attention to. My horses gladly obey, because they are happy to be in the herd and want to stay on good terms.
We train horses so they don't display herd behavior when a human is around. That's a safety rule. I don't want a horse to treat me as a new horse when I enter the pen or attack another horse that then runs over me. That's not a safe way for horses to act around humans.
I don't want herd hierarchy to dictate how I go about my horse chores. If I want to feed them in an order that goes against the pecking order—for example, walking down a barn aisle and feeding in order of the stalls—I want to be able to do that without making my job more difficult. I won't feed the alpha horse first if his stall is halfway down the row. He'll need to be patient and have manners, just like everyone else.
I also don't want to make my job harder than it needs to be. If I bring horses in from the pasture and they know that they'll be fed in their stall, I will allow the dominant horse to come in first. It causes more problems than it's worth to work out of the herd's natural order in that scenario.
No matter their place in the herd, horses will learn the routine. Make sure that no matter what order you feed horses in, they are patient and acting properly at the moment you give them food. I want the horses to stand back respectfully and wait, even if I am on the other side of the fence.
Horses often display anxious and aggressive behavior at feeding time. Some horses will nicker to you at feeding time—the nicker means "come to me," and they know you will bring them food. But it's important not to let a horse control your actions or your emotions. If a horse is being demanding and you walk over and throw hay, he may think that his behavior caused the food to appear.
Some of my horses are on free-choice hay access and 24/7 turnout—this is the most peaceful and least stressful feeding situation in the herd because everyone takes their turn eating, and the horses at the bottom of the pecking order can steer well clear of the horses at the top to eat without being harassed.
Julie Goodnight shares her lessons on her RFD-TV show, Horse Master (also online at tv.juliegoodnight.com), and through clinics and expos. Heidi Melocco (www.whole-picture.com) is a lifelong horsewoman, equine journalist, and photographer.
---
This article originally appeared in the April 2016 issue of Horse Illustrated magazine. Click here to subscribe!