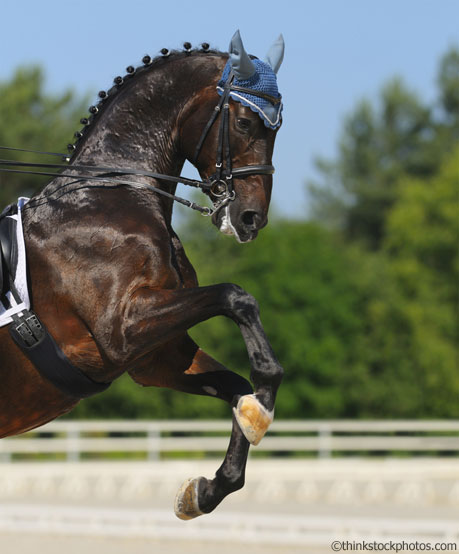 It's not unusual to see a horse rear. A frisky horse cavorting with a pasture mate may stand on its hind legs as a playful expression. Rearing is also a defensive posture that feral horses use to fend off predators. But when rearing occurs under saddle it's because the horse has absolutely refused to go forward. Once learned, this behavior can become a dangerous vice. Here's how to ride through a rear and tips on how to prevent it from happening again.
The moment your horse begins to rear, loosen the reins by pushing your hands toward your horse's mouth. Resist the urge to pull back on the reins. That won't stop the rear and it could flip the horse over.
Remain centered in the saddle. Don't lean off to one side or you could tumble off over your horse's shoulder. Do, however, tip your upper body slightly forward, into your horse's neck. This will help your body stay in synch with the motion of your horse.
If you need some extra security, grab hold of the mane, saddle horn or pommel.
Once your horse places his front feet on the ground, urge him forward by squeezing with your legs.
If your horse balks and threatens to rear again, use one rein, held out to the side, to lead him into a turn or half-circle. Then, if he does attempt to rear again, it'll be less powerful; most of his energy will be directed laterally rather than upward.
Once you've defused the situation, investigate why your horse reared. Are you using a bit that's too severe? A harsh bit bumping a tender mouth can incite a rear. Could your hands be the culprit? If you're kicking the horse forward with your heels, yet also hanging onto the reins for support, then your horse could rear out of frustration.
Despite what may pass for sage advice, never punish your horse for rearing by hitting him between the ears (on the poll) or intentionally pulling him to the ground. Not only could this end in tragedy, but it doesn't address why the horse reared in the first place.
Anyone who has been astride a rearing horse knows that it's an intimidating experience. But it is a behavior that can be fixed. If your horse continues to rear, enlist the help of a professional trainer who can help you and your horse work through this problem.
Further Reading
See more Horsemanship How-tos >>