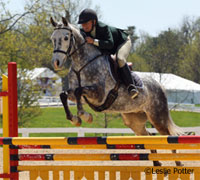 There is more to the sport of jumping than just getting from one side of the obstacle to the other. Yet it seems that many English riders envision themselves leaping over challenging jumps long before they're truly up to the task. It's best to keep your enthusiasm in check and assess your actual skill level.
Hopefully you've aligned yourself with a knowledgeable instructor who'll make certain you've mastered basic skills on the flat before you're allowed to jump. Flatwork is preparation for jumping. If you cannot control your horse's pace and length of stride on the flat, you'll never do it over jumps. When you're ready to compete, allow your instructor to choose the classes best suited for you and your horse.
Most shows offer jumping classes for both novice riders and seasoned competitors. If you're wise, you'll take advantage of this tiered approach. The lower level hunter classes allow you to develop a sense of timing without facing the specter of huge jumps. As the hunter classes become more advanced, skills like getting the prescribed number of strides within lines of jumps and producing clean flying lead changes become necessary. Naturally, you must look smooth and relaxed, too. Riding a winning hunter round is much harder than it looks!
Once you're comfortable with hunter classes, you can test your horsemanship in jumper or medal class events. Though jumpers are judged on faults and time, and medal classes on equitation, both require the same basic skills. Can you negotiate a series of jumps set on a bending line? Are you able to keep your horse balanced as you make a tight, rollback turn to the next jump? These are maneuvers best practiced at home, not in the show-ring. By having a realistic view of your jumping skills, you'll be safe, successful and have fun.
Further Reading
Horse Jumping Tips
Rating the Competition
Cindy Hale is an experienced amateur hunt-seat competitor and author of Riding for the Blue.